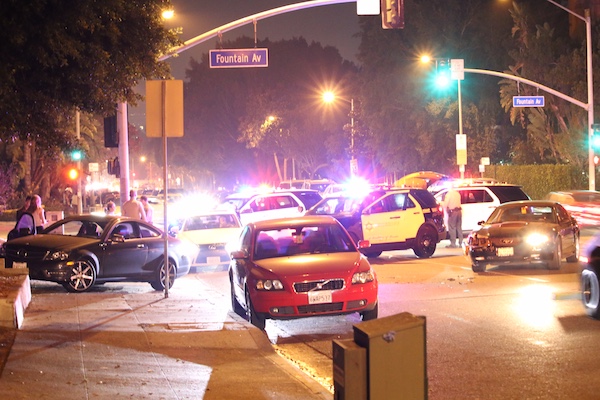 Two cars crashed on Fountain Avenue at about 6:30 p.m. today, the latest in a number of accidents that have prompted residents along the avenue to push for more traffic control.
The accident occurred at the intersection of Fountain with Crescent Heights Boulevard when a Mercedes Benz and a Ford Mustang collided with one another during evening rush hour traffic.
The crash sent the Mercedes Benz onto the sidewalk of Crescent Heights Boulevard. West Hollywood Sheriff deputies temporarily shut down northbound traffic on Crescent Heights while the accident was cleared.
The extent of any injuries sustained by the occupants of the cars is unclear at this point.
There have been more than two dozen vehicle accidents on Fountain Avenue since last December, with one resulting in the death of a pedestrian, Enrique Lopez-Nava, a long-time resident of Formosa Avenue. Hany Demitri, the city's principal engineer, has said that that is not an exceptionally high number, given that the avenue is considered a minor "arterial," meaning that it is used by drivers to cross through the city, and an average of 35,000 cars a day use it.
Nevertheless, those accidents have become a major issue for those living along Fountain and on its side streets. While Fountain is within West Hollywood's city limits, the residences on much of its north side are in the City of Los Angeles.
City Hall is developing plan to improve traffic and pedestrian safety along Fountain that it expects to present to the City Council in February. Meanwhile, it announced last month the installation of solar-powered radar speed indicator signs along Fountain Avenue as well as North San Vicente Boulevard to remind drivers to drive within the speed limit.
Six new yellow digital numeral signs provide real-time visual feedback to drivers about how fast their vehicles are moving. The signs have been installed as follows:
— Two Signs on Fountain Avenue near Formosa Avenue;
— Two Signs on Fountain Avenue near La Cienega Boulevard: and
— Two Signs on North San Vicente Boulevard at Rosewood Avenue.
The signs are intended to increase driver awareness of excessive speed and encourage speeders to slow down. Speed citations are regularly issued through enforcement by West Hollywood Sheriff's Deputies.