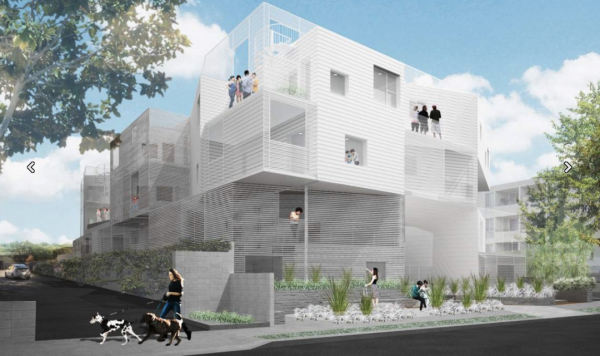 CORRECTION:  An earlier version of this story said that Planning Commissioners Sheila Lightfoot and Heidi Shink voted against this project last year. Actually they voted against it in 2015. The story has been corrected.
If you're wondering what that condominium building going up next to Gelsons on North Kings Road is going to look like, you can find out here. Lorcan O'Herlihy, the architect has released new illustrations of the building, which drew strong opposition from neighborhood residents and antidevelopment activists went it went before the West Hollywood Planning Commission in in July 2015.
The four-story condominium building is right behind the Gelson's grocery store on Santa Monica Boulevard. It will have 30 condo units, including two for low-income people and three for moderate-income people, and 58 parking spaces in an underground garage. It is replacing two single-family homes on adjacent lots.
The Planning Commission endorsed the project in a five-to-two vote, with then-commissioners Sheila Lightfoot and Heidi Shink voting against it. The images originally were published in The Architects Newspaper, a trade journal.