The City of West Hollywood has commissioned Rogue Artists Ensemble to create the interactive, site-specific theater piece "Señor Plummer's Final Fiesta" as part of its "WeHo Artes: West Hollywood Celebrates Pacific Standard Time: LA/LA" programming.
The play honors the 75th anniversary of the 1942 book "Señor Plummer: The Life and Laughter of an Old-Californian" by former Los Angeles Times staff writer John Preston Buschlen. The book documents interviews with Spanish-American pioneer Eugene Plummer – a.k.a. "Don Eugenio," West Hollywood's "original resident."
Plummer's family once owned 942 acres in the heart of Los Angeles and Hollywood, including the Hollywood Bowl site, a square-mile fronting Wilshire Boulevard, and Plummer Park, the location of his last residence.  To be told through a patchwork of tall-tales, large-scale puppets, masks, and music, "Señor Plummer's Final Fiesta" is presented with the support of the City of West Hollywood's WeHo Arts program.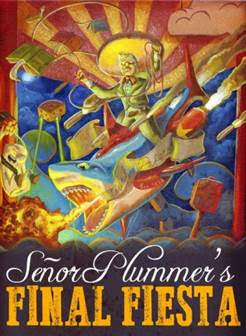 "Señor Plummer's Final Fiesta" will be workshopped with participatory open rehearsals on Aug. 12 and 19 in Fiesta Hall at Plummer Park. During these rehearsals, Rogue Artists will facilitate a variety of activities to engage audiences in an exploration of the future and past of West Hollywood.  Visitors are welcome to drop in anytime between 1 and 4 p.m.
Community artwork and ideas generated at the rehearsals will be incorporated into performances at 7 p.m. on Aug.24, 25 and 26 that will include full readings of the play with selected scenes featuring sets and costumes. Each performance, which begins in Fiesta Hall, will conclude with food and a mariachi concert with La Victoria.  Seating is limited. Tickets can be reserved online. Guests are asked to pay what they can to join the fiesta, with a suggested minimum donation of $5.
"Our vision for the production is that it will transform Plummer Park into a memory map of Eugene Plummer, the park's namesake, in an interactive experience, reflecting on the changing nature of our city and residents," said Rogue Artist Ensemble Artistic Director Sean Cawelt. "The workshop will be a mixture of some fully realized elements, as well as script-in-hand development." At both the rehearsals and the performances, viewers are invited to participate and help shape the production, which will premiere as a completed work in 2018.
Señor Eugenio Plummer died at age 92 in 1943 in a house on Vista Street in what is now Plummer Park.  As an early dust jacket for "Señor Plummer: The Life and Laughter of an Old-Californian" notes, "this fine Old Californian suffered the usual fate of the early Spanish-American pioneer, losing his estates to the incoming Americans, down to the last acre and a foreclosure."  The jacket also describes the book as, "a colorful mosaic of priceless episodes surrounding the old Hispano-California families; reflecting their generosity, hospitality, love of life, sense of humor, their loyalty to California and their true Americanism."
WeHo Artes highlights also include projects that are funded by the Getty Foundation: "Sense of Place" by Jose Davila presented by LAND; "Video Art In Latin America" presented by LAXART; "Axis Mundo: Queer Networks in Chicano LA," presented by ONE Archives Gallery and Museum; and "How to Read El Pato Pascual: Disney's Latin America and Latin America's Disney," presented by Arturo Herrera/MAK Center for Art + Architecture and Luckman Gallery at Cal State Los Angeles.  Other programming presented by the City of West Hollywood includes the exhibition "In West Hollywood," featuring works by Ramiro Gomez and David Feldman (in association with Charlie James Gallery), opening at West Hollywood Library on August 23 with a reception from 7 to 9 p.m.
Rogue Artists Ensemble is an award-winning collective of multi-disciplinary artists who create "hyper-theater," an innovative hybrid of theater traditions, puppetry, mask work, dance, music and modern technology. Pacific Standard Time: LA/LA is an exploration of Latin American and Latino art in dialogue with Los Angeles. Supported by grants from the Getty Foundation, Pacific Standard Time: LA/LA takes place from September 2017 through January 2018 at more than 70 cultural institutions across Southern California, from Los Angeles to Palm Springs and from San Diego to Santa Barbara.
Plummer Park is located at 7377 Santa Monica Blvd.  "Señor Plummer's Final Fiesta" events will take place in both Fiesta Hall and Great Hall (check in at Fiesta Hall courtyard). Free parking in both Plummer Park parking lots is accessible from Santa Monica Boulevard or Fountain Avenue.