CORRECTION: The L.A. County Coroner's Office today confirmed that it identified the residence of Johannes Marliem as the house in the 600 block of North Edinburgh Avenue where he died. That house is not in West Hollywood, as the Coroner's Office records indicated, but in Beverly Grove, the Los Angeles neighborhood adacent to West Hollywood. The story has been updated to correct that error.
The Beverly Grove resident who authorities found dead of an apparent self-inflicted gunshot wound on Edinburgh Avenue early Thursday morning is a key witness in an investigation in his native Indonesia of a $172 million graft case that involves a cabinet minister, two governors and other prominent politicians.
The 32-year-old man is Johannes Marliem, who originally was misidentified as Johannes Marlie in a story from a local news service. Police were called at 4:20 p.m. on Wednesday to the 600 block of North Edinburgh Avenue in Beverly Grove, where Marliem was said to be holding two people hostage in a house. The area around Melrose Avenue and Crescent Heights Boulevard, on the southern edge of WeHo, was shut down for hours while crisis negotiators and a SWAT team attempted to remove the two hostages. A woman and child, apparently Marliem's wife and child, finally got out of the building safely about 7:30 p.m. Wednesday. Investigators from the Coroner's Office, who identified Marliem as a resident of West Hollywood, declared him dead at 2 a.m. Thursday. It is not clear whether the house where the hostage situation took place is Marliem's home, which would make him a resident of Los Angeles, although other sources have said a friend of his lives there.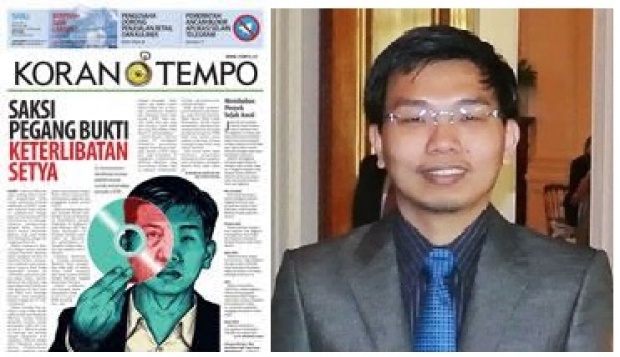 A story today in Indonesia's Jakarta Times says that country's Corruption Eradication Commission has confirmed Marliem's death. "Marliem … was considered a key witness in the high-profile graft case, which has implicated dozens of senior politicians — including active lawmakers, a Cabinet minister and two governors — and caused Rp 2.3 trillion (US$ 172 million) in state losses," the Jakarta Times reported. One of those implicated is Setya Novanto Speaker of the Indonesian House of Representatives.
Marliem was the director of Biomorf Lone LLC, a company with offices in India, Indonesia and Minneapolis that creates identity management programs such as automated fingerprint ID systems. Biomorf had been awarded a contract for an automated fingerprint ID system by the Indonesian government.
In a Facetime video interview with Indonesia's Koran Tempo from the United States in July, Marliem claimed to have recorded conversations with politicians involved in a payback scheme to award the contract to Biomorf. In that interview, he said he had kept 500 gigabits of recordings of negotiations regarding the project. The Jakarta Times quoted an analyst for the Indonesia Corruption Watch as saying Marliem's death would hurt the Corruption Eradication Commission's investigation. She said the commission should work with local police to uncover the reasons behind Marliem's death.
Marliem also was CEO and founder of the Marliem Marketing Group, which helps US companies sell products and services in Indonesia. He has been involved in some scandals himself, which came to light in 2013 when the Minneapolis Star-Tribune revealed that he donated $225,000 to help pay for Barack Obama's second inauguration celebration. The Star-Tribune cited evidence that Marliem pleaded guilty in 2010 to a gross misdemeanor of theft by swindle. Prosectuors had charged him with writing more than $10,000 in worthless checks. Democratic Party officials said they would not have accepted his donation if they had been aware of his criminal background.