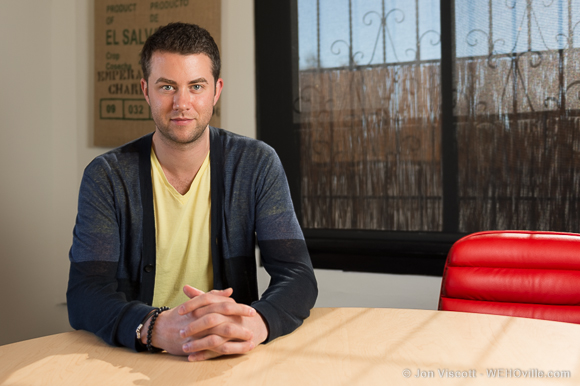 Blaine Vess, 36, an unabashed fan of West Hollywood who grew his business in WeHo until he couldn't find enough office space to house it here, has sold that business for $58 million.
That business, called Student Brands, was launched by Vess in 1999 from his dormitory room at North Central College in Illinois. Its product was Oppapers.com, a website where students could share papers to help one another study. As it grew, Vess and his co-founders ran it out of his home and then, in 2011, he chose West Hollywood as the location for a real office.
An article about the sale of Vess's business published in Fortune's Term Sheet newsletter, notes that when the company created a paid subscription model in 2005 it earned $60,000 in Year One. That grew to more than $1 million by 2007. Vess, who had moved to Los Angeles to work as a marketing consultant for New Line Cinema, then decided to hire some employees and move into an office at 8939 1/2 Santa Monica Blvd. at Robertson, near Café d' Etoile, the restaurant where he frequently lunched. A few years ago, unable to find office space in West Hollywood for a staff that eventually grew to 50 people, Vess reluctantly moved Student Brands to Hollywood. Despite that move Vess, who lived in Beverly Hills just across Doheny, frequently visited West Hollywood and kept up with local news and events.
The business, which had $20 million in revenue last year, became a very successful network of educational sites such as StudyMode.com, which allows students to review and share study materials. As of today, Student Brands now operates more than 20 education-related sites that reach more than 60 million students around the world each month.
Vess is called out in Fortune's Term Sheet for the way his business success contrasts with that of the typical digital startup, "where startup founders raise giant piles of venture capital to fuel hyper growth and then ride said hyper growth to an IPO or sale." Vess and his co-founders launched and grew the business with no outside investment. As a result, when Barnes & Noble Education acquired Student Brands last week for $58 million, 80% of that went to Vess. The remainder went to his business partners and to Thomas Swalla, former COO of Savings.com, who Vess hired as the company's president in 2015.
With Swalla in day-to-day charge of Student Brands, Vess and two partners launched Solve, a Las Vegas-based business that says its mission is to "help people travel efficiently and safely."
It does that at over 470 airports around the world with a concierge service that provides baggage assistance, help with checking in for a flight and fast-track immigration and customs clearance, access to lounges and more.