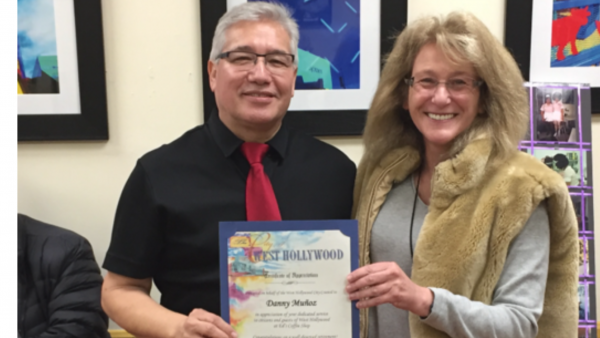 The customers at Ed's Coffee Shop knew Danny Munoz for his smile and engaging conversation. Ada Blumstein, the owner of the classic diner on Robertson Boulevard, knew Munoz for the 30 years he worked there as a waiter and came to see him as family. And those with a passion for the history of Los Angeles knew him as a man with a similar passion who served as president of the Associated Historical Societies of Los Angeles County and was a co-founder of the Echo Park Historical Society.
Munoz, 68, died on Wednesday after a struggle Sunday with what appears to have been an undiagnosed case of liver cancer. His death was announced to residents of the nearby West Hollywood West neighborhood in an email today from Manny Rodriguez of the local residents association.
Munoz leaves behind his husband, David Hiovich, who he met decades ago in the old Circus Disco in Hollywood, and his mother, Lucy Munoz, and brother Arthur.
Blumstein said that Munoz came to work at Ed's when Hilldale Café, where he used to work, closed. "One of their customers told my mom that she should see if Danny would come to work with us," Blumstein said. "He was wonderful. He was just the sweetest most mild-mannered person. I could get bitchy and pissy about a customer who was giving me problems. … It would roll right off of him. Nothing would fluster him."
"I could rely on him for anything," Blumstein said. "He was like my brother. People who didn't know he was gay would think that we were married. Our joke was that David was his husband, and I was his mistress."
Munoz retired from Ed's in December of last year and Blumstein arranged a retirement party at which then-Mayor Lauren Meister presented him with a proclamation acknowledging his service. In an essay that he wrote for WEHOville, Carleton Cronin noted the celebration of Munoz's service to Ed's and its customers.
"I looked up Yelp and a couple of other guides to see what other folk had to say," Cronin wrote. I found not a single grumpy comment, and almost all were of the five-star variety. In a world full of complaints I ask – how did that happen? The answer, of course, is a man like Danny who made his job large by embracing his customers, by anticipating their needs and fulfilling their requests. While some might feel that a waiter's job was hardly one which could be enlarged, many others know that Danny was able to do that because he truly cared about
Cronin also noted Munoz's other passion — history. "There's more to Danny than most people know," he wrote. "He is also Daniel T. Munoz, president of Associated Historical Societies of Los Angeles County. The motto (we say mission these days) is 'Helping Los Angeles County historical societies coordinate, promote and thrive.' Apparently, things are working well and the group includes over 20 principal L.A. County cities, including Los Angeles. Perhaps there will be a West Hollywood Historical Society one day to join the crowd. I also know that Danny maintains a well-stocked library."
Blumstein said a small family ceremony will be held in Munoz's honor on Sunday and that another celebration might occur at his home in Echo Park in August.