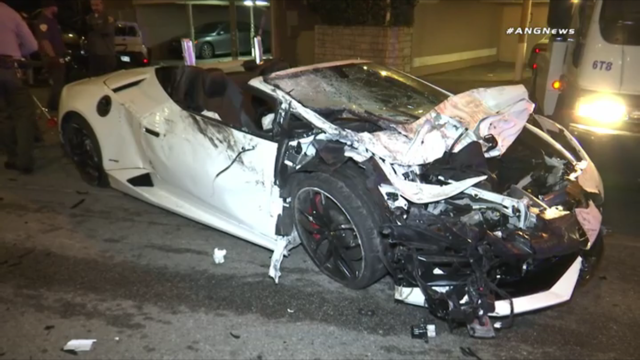 The Lamborghini that crashed near the intersection of Romaine Street and Genesee Avenue in West Hollywood on June 29 was being driven by NBA Young Boy, a rapper whose real name is Kentrell DeSean Gaulden, according to a lawsuit filed in L.A. Superior Court on Friday. Gaulden, who also goes by the name Young Boy Never Broke Again, is 17 years old and a native of Baton Rouge. The lawsuit describes him as a resident of Beverly Hills.
Gaulden was released from jail in Louisiana in May after he pled guilty to aggravated assault with a gun and prosecutors dropped two charges of second-degree murder related to a drive-by shooting.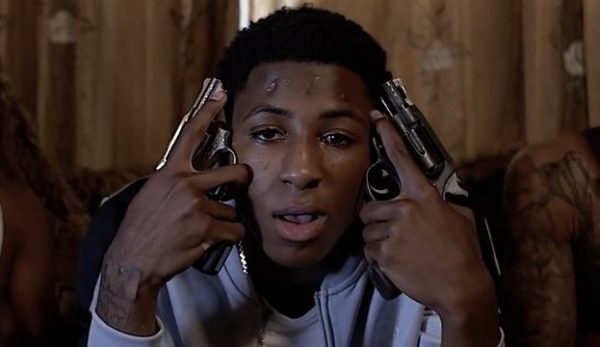 The lawsuit by Exotic Car Rental, which leased the car to Gaulden's associate, Desmond Hardnett, doesn't specify the amount of damages being sought from Gaulden and Hardnett. However, it is asking for a payment to cover actual damage to the car, which it says was totaled, along with attorneys' fees and court costs and a punitive damage amount. Exotic is requesting a jury trial. The CarFax website calculates the value of that particular car, a Lamborghini Huracan Spyder, as $228,760. Exotic Car Rental is based in downtown Los Angeles.
After receiving a call about the incident, sheriff's deputies and firefighters arrived at the scene at about 1 a.m. that Thursday to find the car abandoned on the street and one black compact SUV overturned and another heavily damaged. Both SUV's were parked on Romaine.
Neighbors reported seeing as many as two men fleeing the Lamborghini and jumping into a dark-colored Bentley that was trailing it and leaving the scene. A sheriff's sergeant said his deputies may have been on a traffic stop with the Lamborghini earlier in the evening. There were no reported injuries. West Hollywood Sheriff's deputies are handling the investigation.
In its lawsuit, Exotic Car Rental states that the car was rented by Hardnett under the condition that he would be the sole driver. A copy of the rental agreement continued in the court filing shows that Hardnett rented the car at 5 p.m. on June 27 and made a deposit of $500. He requested an extension of the one-day rental to June 29. With the extension, the total cost of the rental was $4,049.
Gaulden reportedly was advised by another rapper, Meek Mill, to leave Louisiana because his life was at risk. XXL magazine reports that Mill gave that advice to Gaulden in a Facetime chat, telling him, "You gotta move or you gon' die!"