West Hollywood still is known for its rock clubs on Sunset Boulevard. It has a reputation as the gay capital of Southern California thanks to its Boystown nightlife district and welcoming attitude toward LGBT people. And the city's Design District promotes its reputation as a center of design and style
But for those of us who live here, WeHo also is the Southern California version of Mayberry, that idyllic (albeit fictitious) small town where everyone knows his or her neighbors.
That aspect of West Hollywood life was illustrated today in the delivery of a gift to a local resident who posted on Facebook on Dec. 13 about the death of her computer.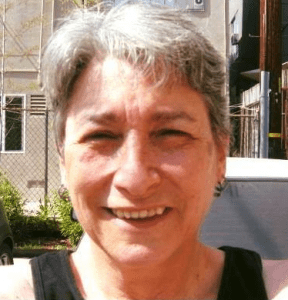 "My computer is becoming less and less functional," said Alison Laurie, a frequent commenter on WEHOville who closely follows the goings on in West Hollywood. "I have no money for a new one. Can't afford another monthly payment either. So, if I disappear, that's what happened. I will lose my mind if it dies LOL. Not sure what I am going to do."
That prompted Larry Block to reach out and offer her some help. Block, owner of The Block Party store, is a local activist who decided at the last moment not to run for City Council next year.
The extra monitor that Block delivered worked, but the computer processor didn't.
"Instead of looking around for somebody to donate a computer, it seemed the fastest and most guaranteed way was to buy a new one," Block said. "I decided to see what I could raise and cover the difference so she would have a computer on Christmas.
"I sent about 40 texts ,which included all the city council members. John Duran hit me back right away — 'Will give $20.' No other responses. And as I have made my rounds since Monday I decided to just ask everyone to help out with $5, or $10 or $20 or whatever they can afford.
"Then when I got to Best Buy, I showed them the card and the money and asked them for an upgraded CPU from the monies we had. They responded with a $50 discount on a new Hewlett Packard CPU. And it's a Merry Christmas to all."
The donors, listed in no particular order, were Manny and Danny Rodriguez, John Altschul, John Duran, Ruth Williams, Jason Beck of Alternative Herbal Health Services, Donna Saur. Roy Rogers Oldenkamp, Mike Zanella and Richard Blonz, City Hall employees David Degrazia and John Keho, Donald Elmblad, Jim Hieronymus, Tony Rizzo (who filmed the video above), Lyndia Lowy, John of Fiesta Cantina, Jack of Bank of America, David of Z Pizza, and Best Buy at the Gateway.
"I do not know how to thank everybody, I am just overwhelmed," Laurie said when she received the gift. "… my faith in people has been restored. I am just overwhelmed."