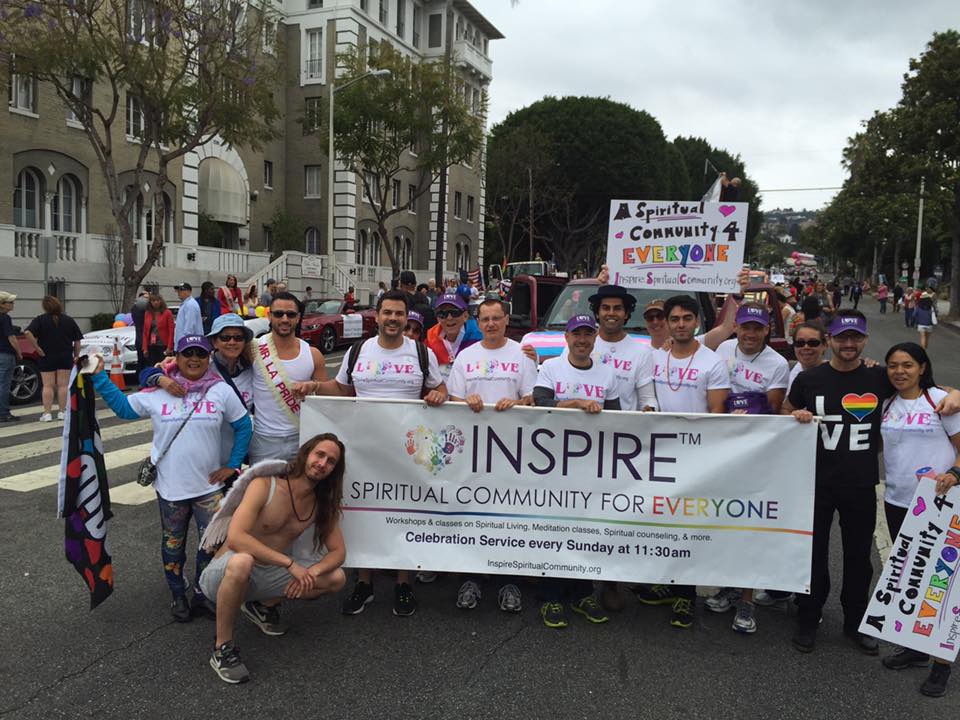 Reality television star turned minister, Jesse Brune-Horan had a dream of starting an LGBT-oriented church in a bar. In 2010, he turned that dream into a reality and gave birth to the Inspire Spiritual Community, a growing and thriving spiritual center in West Hollywood.
In the nearly seven years since its founding, Inspire has been attracting an eclectic mix of men and women, gay, straight, bisexual, transgender, young, old, married, single, black, white, Hispanic, Asian, Native American. They're all finding something they weren't getting anywhere else. Brune-Horan calls it a "connection."
"Los Angeles is a county of 10 million people, but loneliness is an epidemic here. Everyone is going, going, going, and there's so much to do just to make it in this town, it can feel very isolating," says the 36-year-old Brune-Horan, best known for appearing as a personal trainer on the 2006-2008 Bravo cable reality series "Workout." "To have a community where you can make actual, real connections with people that are loving, a connection with people who are lifting you up and speaking to your highest potential and telling you can do it, not telling you all the reasons you can't or why you should give up or why you should pack it in and leave, it's really healing."
Brune-Horan seems to be a conduit for that connection. His weekly sermons are not based on any particular religious belief, but rather universal spiritual themes common throughout all religions of the world. Some might consider him to be the gay Marianne Williamson. Like that famous spiritual guru, Brune-Horan studied the teachings of "A Course in Miracles" to get his spiritual foundation. The central theme of that spiritual workbook is love.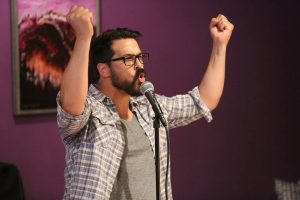 "Love is contagious. You can't keep it to yourself. The nature of love is to expand," muses Brune-Horan, who appeared in two other reality shows, Food Network's "Private Chefs of Beverly Hills" and OWN's "Home Made Simple." "I think people are ready to love themselves. In Los Angeles, it can feel like there is so much judgement out there, judgement based on your material attributes, your looks, the way your body looks, the money you have, your job, so to come to a space where your true essence is celebrated, where people feel really seen and where they can develop authentic relationships is a very loving thing to do. I think God lives in our relationships. Who wouldn't want to come to a place where people are telling you how great you are and meaning it. We're not trying to sell you on anything, we're just trying to empower you because we feel the love."
That message of love is resonating with the congregation, drawing in new people each week. In 2012, Patsy Moore was going through a depression following a break up when a friend encouraged her to go to Inspire.
"I walked through the doors of the bar and felt complete peace," says Moore who now serves as Inspire's musical director. "There was just this energy that was palpable. People were very welcoming. Everything Jesse talked about was exactly what I needed to hear in that moment. I felt like he had a little camera in my house and knew what was going on. I was so deeply moved by it and so deeply moved by the fact that there was no garnish on it. It wasn't fluffy. It wasn't positive feel-good stuff. It was real talk about what it was like to be in the depths and how to move through it. I walked up to him afterwards and said, 'I needed to hear every single word you said,' and I've never stopped coming."
As a black, gay man, Chris Harriott always felt unwelcome and disenfranchised whenever he was in West Hollywood, which is predominately Caucasian. When a friend told him about the nurturing, welcoming community of Inspire, he couldn't believe what he was hearing.
"To think there was a spiritual-inspired community in the midst of West Hollywood was unbelievable to me. I just had to come check it out," Harriott remembers. "Of course I got here and everything he told me was here. There was a lot of love. It was very welcoming, it was LGBTQ friendly, it was diverse. The messages were not religious, but spiritually minded. It was everything he said and I have not stopped coming since."
That non-judgmental, open-minded community is exactly what Brune-Horan hoped to create when he co-founded Inspire.
"What we really strive to do here is to celebrate the uniqueness of everybody's experience while we explore the truth that connects us all," he says. "We practice a non-dualistic philosophy meaning we are all one, that oneness is God and God is love. That's the foundational teaching of this community."
Raised Southern Baptist
Raised in a Southern Baptist church in Seattle, Jesse Brune-Horan loved going to church and hearing about Jesus even as a child. His mother, Tina Brune, reports that in first grade, he chased classmates around the playground with his Bible, trying to tell them about Jesus. After the school principal called to report that Jesse had scared the young students, Tina Brune talked to her six-year old son.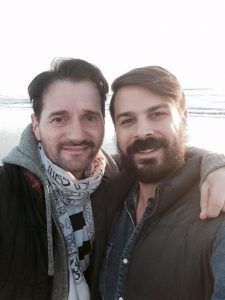 "He said, 'I have to preach to them to tell them the story of Jesus because they don't go to church and they won't know the story,'" Tina Brune recalls. "He said, 'I just love them and want them to go to heaven with me.'"
When Brune-Horan came out as gay at age 16, he knew he had to leave the Southern Baptist Church because it wasn't accepting of homosexuality.
"The god I grew up with didn't have a place for gay people in his house," he says. "I wasn't going to be judged for who I was. I had a very loving family who loved me no matter what, so at least I had that foundation."
When Brune-Horan left the church, so did his mother.
"When Jesse announced that he was gay, I knew that I was no longer Southern Baptist," Tina Brune recalls. "I knew I wasn't going to have our church tell my son who loved the Lord so much in his heart that he was deviant and wrong. I wasn't going to have any part of that."
Despite turning his back on the church, Brune-Horan kept feeling spiritual urges. He moved to Los Angeles for college at Cal Arts, then pursued an acting career and later attended Le Cordon Bleu culinary school in Pasadena, all the while searching for God.
"I did every cleanse, every yoga retreat there was. I went to gurus and shamen and life coaches," he recalls. "My big take away from that was finding God in LA is expensive."
When he got sober in 2007, the spiritual yearning grew stronger. He began going to meditation classes and volunteering in a Buddhist bookstore. Finally, he started taking classes in "A Course in Miracles" and became ordained as a minister.
Along the way, he met Reverend Jennifer Hadley and approached her with his idea to do a weekly spiritual service in a bar. Without hesitation, Hadley agreed to lead the service. Likewise, the owner of East West Lounge in the Boystown section of West Hollywood readily agreed to let them use the bar on Sunday mornings for free. They held the first service on Feb. 14, 2010, calling it Project Service Los Angeles (PSLA), a name chosen because they viewed holding a spiritual service in a bar as an experiment, a project. They also consciously chose to call themselves a "spiritual community" rather than a "church" to avoid religious connotations.
"I wanted to do something very life affirming in a bar," Brune-Horan explains. "Bars have always served as a place of sanctuary for LGBTs. I wondered if we could really create a space where people could get spiritual nourishment in the bars."
PSLA quickly attracted a core group of participants. When East West Lounge went out of business, they moved a few blocks away to another bar, Here Lounge, and Brune-Horan eventually took over as the spiritual leader.
By 2014, their spiritual community had grown enough that they wanted their own space and eventually moved to offices in the 9056 Santa Monica Blvd. building, across the street from the famous Troubadour nightclub. Along with that move, they changed the name to Inspire.
Genuineness
"Authentic" and "genuine" are two adjectives frequently used to describe Jesse Brune-Horan. Congregation members use it freely, as does his husband, writer/playwright Christopher Brune-Horan. When the two started dating, Jesse told Chris about doing the spiritual services in a bar. Chris was intrigued, but also skeptical.
"I'm an open-minded person, but this was a bit strange. It's one thing to hear about it, but it's another thing entirely when the person you're sleeping with is doing it," Chris Brune-Horan recalls. "He didn't invite me to a service until after we'd been dating for a while, but when I saw him in action, whatever part of me wanted to be cynical, I just couldn't be. He was so genuine. He's the real deal."
Jesse Brune-Horan frequent draws on his personal struggles in talking with the congregation. When he tried to be an actor, his acting manager urged him to be closeted, which resulted in him being so self-conscious about his homosexuality that he flopped in auditions. When he gained 15 pounds before the start of the second season of "Workout," his castmates "fat shamed" him on camera and viewers sent in hate mail about the weight gain, forcing him to frantically workout to get the pounds off and receive the praise he desperately craved at the time. When he sold all his belongings to return to Seattle to open a boutique chain of fitness centers, his financial backer disappeared suddenly, forcing him to rebuild his life from scratch. Those experiences, and many others, give him unique perspectives for helping others.
"I'm interested in getting a message of love and empowerment out to people," he says. "It's important to impact the lives of people, especially LGBTQ people, because that's really what I feel called to minister to, to teach them how to love themselves."
Toward the future
Come 2017, Jesse and Chris Brune-Horan are looking to become parents. They've been approved to become foster parents with the intention to adopt and are waiting anxiously for the phone to ring.
Inspire now regularly attracts a standing-room-only crowd. Consequently, they're planning to expand to two services on Sundays – at 10 a.m. and 11:30 a.m. During the week, Inspire also hosts spiritual workshops, support groups, 12-step recovery meetings and even a monthly, open-mike storytelling hour.
Since the building in which they are currently housed is slated for demolition within the next year or so (to make way for the Melrose Triangle office-retail-residential project), they are also looking for a larger space. They hope to keep Inspire in West Hollywood, but that may prove challenging since what little office space is available tends to be expensive.
Meanwhile, Brune-Horan intends to keep spreading the message of love.
"We need to cultivate an awareness of love within ourselves so we can be able to practice compassion and forgiveness while also holding a higher vision of what is possible," he says. "I think that love is the only thing that can build that vision. Love isn't weak, it's so powerful."
——————–
Inspire is located at 9056 Santa Monica Blvd. (near Doheny), Suite 202, in West Hollywood.