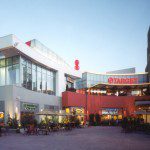 A camera at the West Hollywood Gateway shopping center last night captured an image of the license plate of a car stolen in Los Angeles and transmitted an alert automatically through a network connected with the Los Angeles County Sheriff's Department.
The Automated Secure Alarm Protocol (ASAP) notification resulted in two West Hollywood Sheriff's deputies hearing to the Gateway where they discovered a stolen Jeep Patriot vehicle in the parking area near Target. The deputies, Garrett Rifkin and Grehtel Barraza, entered Target looking for a person identified as the suspect in the theft of the rental vehicle. They found him and arrested him.
The ASAP system is the result of a partnership between private security agencies and public safety organizations. By automatically transmitting data about stolen vehicles or other crimes, the system reduces the need for 911 calls.