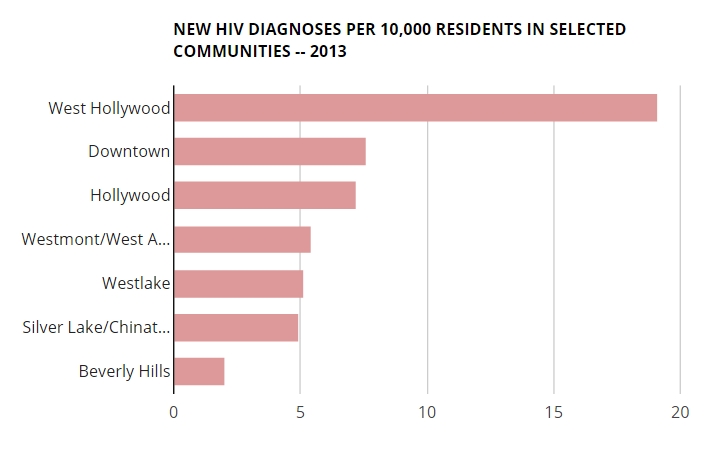 New HIV diagnoses have declined in West Hollywood, but the city still has the county's highest rate per 10,000 residents. That is according to a new report by WeHo by the Numbers based on data from the city and county.
December 1 is World AIDS Day. In West Hollywood, about 2,500 residents are living with HIV. In 2014, those residents represented 7% of the city's population, or one in 14 residents. Among male residents, 13%, or one in eight, were living with HIV. The number has grown steadily over time.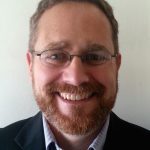 The city's 2014 rate was far above the county average. About 49,000 of the county's 10 million people were living with HIV. That was 0.5% of the county's population.
According to the report, more than 70 West Hollywood residents are newly diagnosed with HIV each year. The number of new diagnoses has declined in recent years. It fell over 20% between 2006 and 2014. The number dropped even more for the county as a whole.
The county publishes population-adjusted rates of new HIV diagnoses for the 35 communities with the highest rates. The adjustment is based on each community's total population, not its high-risk population. West Hollywood had by far the highest rate in 2013, the most recently published year. The city had 19 new HIV diagnoses for every 10,000 residents.
Downtown Los Angeles was next with eight and Hollywood with seven. Silver Lake and Chinatown combined had five. Beverly Hills was farther down the list, with two new diagnoses per 10,000 residents. More comparisons and historical data can be found in the full report, What is West Hollywood's HIV rate?
The City of West Hollywood is currently finalizing its "HIV Zero" strategic plan. The strategies involve PrEP, HIV testing, HIV/AIDS treatment, substance abuse treatment, mental health services, health care access, and education. The city's list of HIV resources is here.