A man previously convicted of the so-called "bling ring" burglaries of celebrities' homes was sentenced today to 350 hours of community service and three years probation in a stalking case.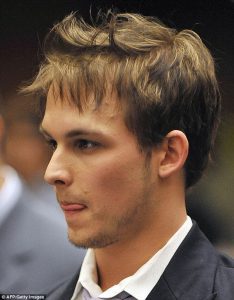 Nicholas Frank Prugo, 26, pleaded guilty Sept. 12 to a misdemeanor charge of stalking West Hollywood esthetician Dawn DaLuise.
Los Angeles Superior Court Judge Michael A. Tynan imposed an identical sentence on a second man, Edward Robert Feinstein, 32, who pleaded no contest to the same charge. Feinstein also goes by the name Edward Reeves on Facebook.
Attorneys for the two men had asked for a year of probation, but the judge went along with Deputy District Attorney David Reinert's request for community service and the longer probationary period.
The judge also ordered the two not to have any contact with DaLuise and her two daughters or each other for 10 years. Tynan — who called the disposition fair — said he wished that "none of this (had) happened, but it has."
Prugo and Feinstein had been charged with three felony counts of stalking — one for DaLuise and one each for her two adult daughters — and a separate felony charge of soliciting a man to rape the mother.
The two counts involving the daughters were dropped by prosecutors before the hearing began in July, and a judge dismissed the solicitation charge and reduced the remaining stalking count to a misdemeanor, to which Prugo and Feinstein pled.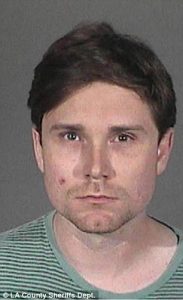 Prugo's attorney, Pat Harris, said after the hearing that he believed the judge's decision to dismiss the solicitation charge and to reduce the remaining count to a misdemeanor "speaks to" DaLuise's credibility. He noted that his client could have faced up to 14 years behind bars if he had been convicted of the two felony charges.
Prugo — who was one of six people prosecuted for the "bling ring" burglaries — served a year in county jail after pleading no contest in March 2012 to two counts of first-degree residential burglary involving break-ins at the homes of actress Lindsay Lohan and reality TV star Audrina Patridge.
DaLuise was acquitted in January 2015 of solicitation of murder and solicitation of assault with force likely to produce great bodily injury involving rival business owner Gabriel Suarez.
"Hopefully this is one chapter that I can close in this book. I was acquitted and this was brought to fruition and the admission of guilt took place," DaLuise told reporters outside court. She said "there aren't words" to describe the ordeal she's gone through, then said it was "immobilizing, terrifying, frustrating, enraging (and) helpless."
Deputy District Attorney Christine Von Helmont argued during DaLuise's trial that the esthetician had wrongly convinced herself that Suarez was responsible for stalking her. Someone had also distributed sexually explicit fliers and posted ads on Craigslist posing as DaLuise and soliciting men to act out a "rape fantasy," the prosecutor told jurors in that trial.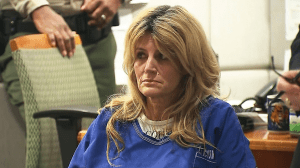 DaLuise's attorney, Jamon Hicks, said his client did not do anything to solicit murder. The defense lawyer told jurors that she "was venting. She was upset. She said some things that aren't nice," but "never intended for anybody to die. She did not want this man murdered … We all say things in the heat of the moment that we don't mean, that we wish we could take back."
DaLuise noted that she has filed a civil lawsuit against Los Angeles County and the Los Angeles County Sheriff's Department in connection with her arrest.
Feinstein's attorney, Tamar G. Arminak, told the judge that her client had sought counseling and is "continuing to work on himself." She said Feinstein has not had any contact with DaLuise or her family for almost three years, and has no problem with not contacting them, but said the case and the publicity surrounding it have affected him and his reputation.
Prugo's attorney said his client "has been doing exceptionally well."
"I know that he wishes to get on with his life, to do things," Harris
said.
Prugo's attorney told reporters outside court last year that he believed his client met DaLuise at a Vanity Fair party following the publication of an article about the "bling ring" case. "I think originally they had some sort of business arrangement where she was helping in some sort of a business that he had, marketing it or something, and that didn't last very long. And at that point they didn't really have much of a relationship at all," Harris said then.
Edward Reeves https://www.facebook.com/profile.php?id=100005107908489