Lu Parker, a Los Angeles news anchor and West Hollywood resident, was arrested today for allegedly stealing a pair of headphones from a passenger-screening area at Los Angeles International Airport.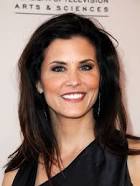 Frances Louise Parker, 48, was taken into custody about 7 a.m. at a Transportation Security Administration screening area in Terminal 6, according to Airport Police Officer Rob Pedregon. She was taken to the Los Angeles Police Department Pacific Station to be booked on suspicion of petty theft, he said.
Pedregon said Airport Police were called to the screening area on a report of "lost property."
"The suspect was located, the property was recovered and the victim executed a private person's arrest," Pedregon said.
According to TMZ.com, Parker — the 1994 Miss USA pageant winner — took a pair of headphones valued at $200 from the TSA screening area and then walked to her gate and boarded her flight. The headphones were owned by an LAPD Robbery-Homicide detective, according to TMZ, which reported that Parker was taken off the plane by police.
KTLA, where Parker is a mid-day news anchor, issued a statement this afternoon saying that Parker noticed the earbuds were left behind. She picked them up, KTLA said, "intending to return them to the owner whom she had been speaking with while in line to clear TSA." Unable to locate the owner, Parker boarded the flight with the earbuds.
Parker, a 1994 Miss USA Pageant winner, previously dated then-Los Angeles Mayor Antonio Villaraigosa.