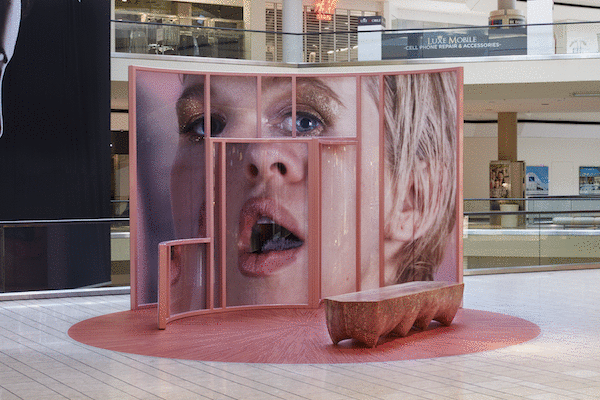 It's not just art on the outside. As part of it ongoing renovation, the Beverly Center has begun an installation of art inside the eight-story shopping mall.
Two new works recently debuted that are the first sculptural installations of the program – "Stay" by Karen Kimmel and "Artists and Models" by Julian Hoeber.
According to a press release, both works were created exclusively for Beverly Center and "act as a sort of stylish seating option for guests to interact with, marking a radical and exciting departure from the traditional concept of what a shopping center common area should look like."
Kimmel's created a temporary sculptural installation incorporates usable seating for customers in the form of benches, platforms, and stools whose shapes derive from Kimmel's visual vocabulary of abstract, biomorphic forms. The sculptures offer both form and function, cleverly providing a place for shoppers to rest and relax.
Hoeber typically uses a wide range of media to explore psychology. His work for Beverly Center is a seating pavilion composed of a curved billboard with an image of a woman's face seemingly pressed against the glass. The façade wall is interrupted by a doorway that allows visitors to metaphorically enter the face, behind which is a sculptural bench and intricate floor that, together, form a distinctive space to relax in.
The Beverly Center also has installed large works of art on its southern facade.
Beverly Center is undergoing a $500 million renovation. The project's goal is to create a bright, contemporary and highly accessible exterior and interior that engages the center with the surrounding neighborhood. The center will be open throughout the renovation, which is scheduled to be completed by the holiday season in 2018.
Beverly Center's temporary art installations come exclusively from well-known Los Angeles artists. The installations are curated by Jenelle Porter in association with the Hammer Museum.