West Hollywood's Stephen Palladino placed first in the Painting category at the Beverly Hills artShow this past weekend. Although Palladino has studios and lives in different parts of the U.S., he spends most of his time in Los Angeles and West Hollywood area. His murals are located in Terronni's, Culver Studios and on Lincoln Boulevard in Santa Monica.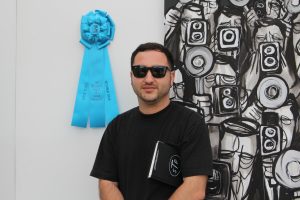 An announcement of his award from the City of Beverly Hills says that "Palladino creates work that combines loose, raw, and expressive mark making with tight and clean line work. Jumping between two predominantly linear styles, the painter can create a portrait with one single line or carefully craft a character made up of precise detail work, either style being very recognizable of the artist at just a glance.
"This style stems from Stephen's childhood obsession with cartoons and graffiti which shows clearly in his present work. Palladino's characters personify slick, gritty, vintage, gangster-esque gentleman as well as wild, weird, dark, demented, and lowbrow mash-ups with hidden layers of popular imagery and clever dialogue. "
Palladino was trained as a painter in grade school and eventually dropped out of high school to work and continue painting. He began working full time doing commercial artwork until gaining success for his personal work in 2011.
He has been commissioned by Lady Gaga, Absolut Vodka, the Culver Studios, the Miami Ad School, Tres Carnes, Clear Channel, Fox, Reebok, and Hilton, among others. In recent years, Palladino has showed works in group exhibitions and had his first solo show in Los Angeles in 2015.
The Beverly Hills artSHOW took place  Oct. 15 and 16 brought art and festival lovers from all over, who enjoyed the work of 250 artists in categories including Ceramics, Digital Media, Drawing and Printmaking, Glass, Jewelry, Mixed Media, Painting, Photography, Sculpture and Watercolor.  The Spring artShow will be held at Beverly Gardens Park from 10 a.m. to 6 p.m. on April 20 and 21.