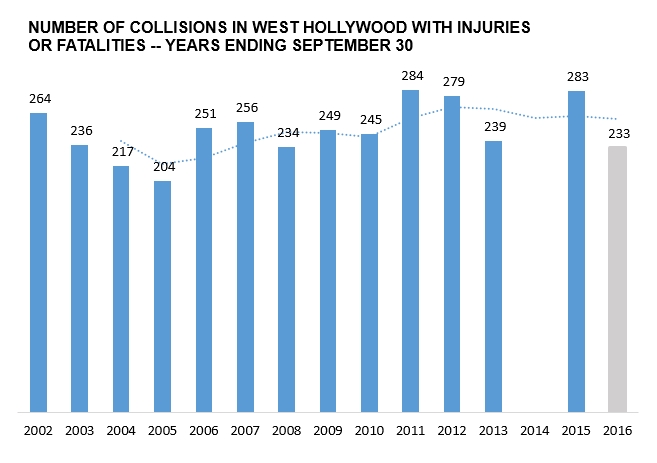 Vehicle collisions in West Hollywood injure people about 250 times a year on average, or about five times a week. That is according to a new report by WeHo by the Numbers based on data collected from local agencies by the California Highway Patrol (CHP).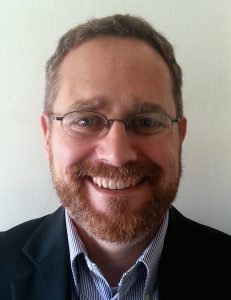 The chart above shows the number of collisions in West Hollywood causing injury or death since 2002. The years are federal fiscal years, which run from October 1 to September 30. No number is shown for 2014 because that year's CHP data was incomplete for West Hollywood. For 2016, the report extrapolated from the number already reported to the CHP.
The annual number of collisions varied from 204 to 284 over the past 15 years. The chart's dotted line shows a three-year rolling average. The rolling average is higher now than it was in earlier years. The variability in the data makes it hard to know for sure what the trend is.
Those vehicle collisions injured 350 people in West Hollywood in the year ending September 30, 2015. Since 2002 — the first year covered by the report — the number of injured ranged between 300 and 365. The one exception was 2005, which had 257 injured. The report did not provide totals for 2014 or 2016 due to incomplete data.
Since 2002, West Hollywood has had three years with no deaths from collisions: 2004, 2008, and 2012. Most other years had one or two fatalities. The highest number was four in 2009.
The U.S. Department of Transportation recently warned that traffic deaths nationwide jumped 10% in the first half of 2016 versus the first half of 2015. However, the West Hollywood collision, injury and fatality numbers do not show a similar increase.
For comparisons to Beverly Hills, Culver City, Los Angeles, and Santa Monica, see the full WeHo by the Numbers report, How often are people injured in vehicle collisions in West Hollywood?