The space that has housed Henry's on Beverly Boulevard is evolving again, this time into a live music venue called the Peppermint Club.
The h.wood Group is partnering with Interscope Records on the club, located at 8713 Beverly Blvd. near Sherbourne Drive. It is set to open Oct. 29.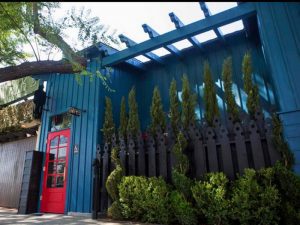 Hooray Henry's opened in 2013 with a "posh London apartment party" design in the space previously occupied by The Beverly, and before that Guys & Dolls, and before that Guys. Hooray Henry's morphed the following year into Henry's, which abandoned some of the Brit theme.
An announcement from h.wood Group says the Peppermint Club's interior will "play out visions of blending dark tones with soft vibrant textures, where its amplifying energy is designed to create an exclusive setting for an intimate evening."
"There is nothing like seeing and discovering an artist before the world does … or better yet seeing a superstar artist who plays arenas on stage in a small living room like venue," said John Terzian, co-owner of The h.wood Group with Brian Toll.
h.wood Group also owns The Nice Guy and The Blind Dragon in West Hollywood, Bootsy Bellows in Los Angeles and Shorebar in Santa Monica.
Interscope's John Janick, Steve Berman, and John Ehmann are partners in the venture. Their recording artists include Dr. Dre and Lady Gaga.