Multimedia Platforms Worldwide, the owner of Frontiers magazine, yesterday officially filed for bankruptcy.
The filing was made by Bobbie Blair, the CEO and now the sole member of the board of the company, in the U.S. Bankruptcy Court for the Southern District of Florida. The other four members of MMPW's board recently resigned.
The filing comes after a lender, White Winston Select Asset Funds, obtained a restraining order on Sept. 22 from a state court in Massachusetts that effectively barred MMPW from using any of its current or incoming cash while White Winston pursued a repayment of $1.13 million it had advanced to MMPW. White Winston has alleged that MMPW defaulted on its loan agreement.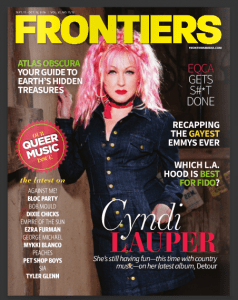 In its suit, White Winston says it quickly granted a $1.75 million line of credit to MMPW under the belief that it was at risk of defaulting on another loan. It made that fast decision after MMPW agreed to send a senior manager to meet with a White Winston representative in California to provide more details and to put all incoming revenue in a lockbox controlled by White Winston. "Defendants' willingness to engage in post-closing diligence was a fiction," the suit claims.
That senior manager was Peter Frank, then MMWP's chief financial officer. Frank never showed up and MMPW said he was ill with the flu. White Winston alleges that it later discovered Frank was out for six weeks because of drug abuse issue. White Winston alleges that MMPW did not deposit in the lockbox any of the $281,000 in cash it collected in the month after the deal closed.
The filing also reveals the amounts of money that MMPW borrowed as it assembled a portfolio of LGBT publications over the last two years, most of which were largely paid for with MMPW stock. That stock, which traded for as much as $1.40 a share in the past 52 weeks, as of today is trading for one-tenth of one cent per share. MMPW obtained $800,000 from Lincoln Park Capital Fund; $100,000 from Terry King; $250,000 from Lawrence Rustein and $196,000 from First Fire Global Opportunities Fund. MMPW used $1.13 million from the White Winston line of credit to repay the Lincoln Park loan and accrued interest and pay fees and interest to White Winston.
Frontiers, 35 years old, has long been the most prominent gay publication in Southern California. Its employees along with others at MMPW publications have been laid off and many of its freelance contributors have not been paid. In addition to Frontiers, MMPW's portfolio includes Florida Agenda; Fun Maps, a series of maps of gay communities calling out bars and shops; Next magazine, a New York City gay nightlife guide, and Guy Magazine, a Fort Lauderdale website for gay men.