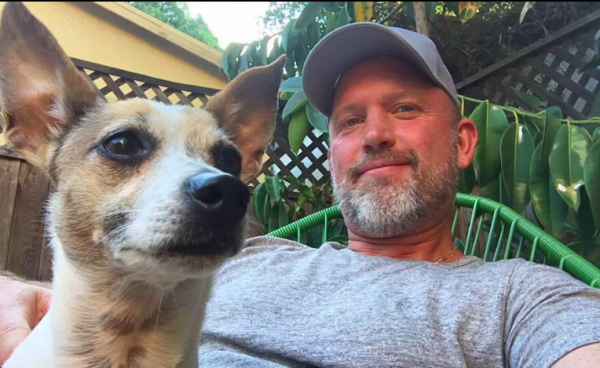 If you have any doubt that this dude loves dogs, consider the nearly three years he's put into Dudes With Dogs, a group he founded in 2014 whose Facebook page has accumulated more than 43,000 followers.
Now Chris Rolczynski has taken another step to help us affirm our love for man's best friend with a mobile phone app called "Delfie." A play on the word "selfie," Delfie allows you to get the attention of your canine pal while you take a picture of yourselves together. No big deal? Consider how hard it is to get Rover's attention focused on the mobile phone camera when you're cheek-to-cheek, and he just wants to lick your face.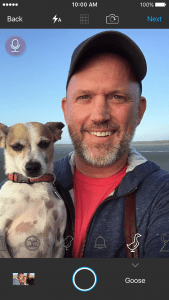 Delfie does that by emitting a sound. You can choose from 28 of them — whistles, squirrels, dogs, cats, kisses, rockets, etc. — or create your own. The Delfie app sells for $1.99 and is available online for IOS  devices.
Rolczynski got deep into the canine community after acquiring Frankie, his fox terrier chihuahua mix. A gay man, he decided to launch Dudes for Dogs on Facebook to bring the local gay dog-lover community together. "Once we got to 500 to 600 'likes' I thought 'Wow. I think we've got something here'," he said.
How has Rolczynski's virtual dog pound grown? In addition to the 43,000 Facebook followers, Rolczynski has created an Instagram page that now has 21,000 followers. Unlike the Facebook community, the Instagram group also has a number of female followers. That's great with Rolczyski, who says DWD is "the original, diverse, inclusive, and enthusiastic community of dog lovers."
Rolczynski intends to use even more social media and groups to expand the Dudes with Dogs concept — a MeetUp group, a Google Plus community.
So what does Rolczynski get out of this? "Delfie has been a labor of love," he said. "It has also cost me a boatload."
Rolczynski would like to make some money from the many, many hours he has devoted to the DWD project. Revenue sources have been t-shirts, caps and other merchandise sold online. An example is the "I'm with Fur" t-shirt, priced at $22.99, which is a play on the "I'm with Her" slogan of Hillary Clinton supporters and the fascination of many gay men with furry human bodies as well as those of dogs. He is working with FIGO, which describes itself as "the first cloud-based pet insurance company" and offers a referral fee.
Rolczynski has a tech background. In the past he worked for Disney and AT&T. Today he works with a team from Uruguay in agile development, a term that includes a variety of software development methodologies.
And he works to keep Dudes with Dogs growing. Be patient, he warns, because he's doing this on his own. "It's all been me," he said. "So it goes a bit slower than you'd want it to."