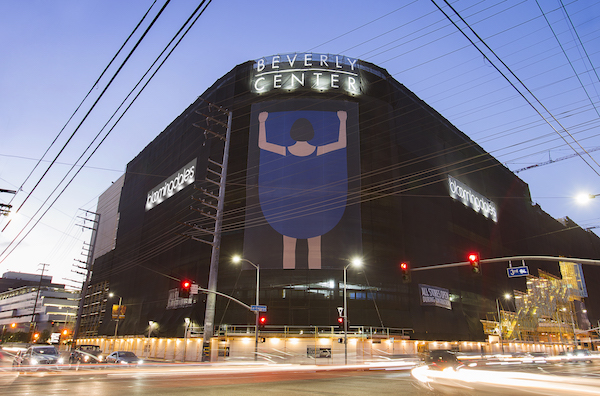 The Beverly Center has begun large art installations as part of a "reimagination" that will include a $500 million redesign of the 883,000-square-foot shopping center by Studio Fuksas, an Italian architecture and design firm.
Today the Center installed a massive and slyly provocative work on its facade on the southwest corner of La Cienega Boulevard and Third Street titled "Girl Lifting Skirt 2." The image is 70 feet tall and, according to an announcement by the Beverly Center, it "evokes the open and civic spirit of Beverly Center's reimagining – itself, a kind of lifting of skirts."
The redesign of the center will include drought-resistant landscaping, a valet station on West Third Street, a central court with seating that can be used for events and will have mobile phone and laptop charging stations and a new restaurant.
The Beverly Center, eight stories high, sits on the southern edge of West Hollywood and is the largest shopping mall in greater WeHo. Bloomingdale's and Macy's are anchor tenants and there are more than 100 other shops with a mix that ranges from luxury brands such as Burberry, Dolce & Gabbana and Gucci to H&M and Uniqlo.
The center is frequently described as "monolithic" because of its relatively blank walls facing La Cienega Boulevard on the west and San Vicente Boulevard on the east. The exterior art program that launched today will address that as the "reimagining" takes place. The entire project is expected to be complete by November 2018.
The Beverly Center's kidney-bean shape was designed to accommodate drilling for oil. (Pumping operations are hidden behind a wall between Macy's and Bloomingdale's.) The active drilling and pumping oil well is managed by Plains Exploration and Production of Houston. It taps into both the Salt Lake Oil Field and the adjacent Beverly Hills Oil Field. Discovered in 1902, one tip of the Salt Lake Oil Field begins in West Hollywood and runs generally along Beverly Boulevard all the way past Highland Avenue and south to Wilshire Boulevard, where it is the source of the tar at the La Brea Tar Pits next to LACMA.
The upcoming installations are organized by Jenelle Porter in association with the Hammer Museum.
"The addition of large-scale exterior artworks will link inside and out, engaging and inviting both those who shop at Beverly Center and those passing by," Porter said. "The interior artworks will give visitors a chance to interact with art in nonconventional ways—that is, the sculptural installations invite you to sit down."
The following works will debut this month and next:
— Julian Hoeber: "Artists and Models, 2016" Hoeber, who typically uses a wide range of media to explore psychology, emotion and narrative, will create a large-scale installation debuting in October. Hoeber's work is a kind of seating pavilion composed of a curved billboard with an image of a woman's face seemingly pressed against the glass. The façade wall is interrupted by a doorway that allows visitors to metaphorically enter the face, behind which is a sculptural bench and intricate floor that, together, form a distinctive space to relax in.
— Karen Kimmel: "Stay, 2016" An artist and designer, Karen Kimmel has created a temporary sculptural installation, exclusive to Beverly Center, that incorporates usable seating for customers in the form of benches, platforms and stools whose shapes derive from Kimmel's visual vocabulary of abstracted, biomorphic forms. The sculptures offer both form and function, cleverly providing a place for shoppers to rest and relax.
— Sharon Lockhart: "Stanley "Tom" Durrell, Tinsmith, 2008"
An accomplished filmmaker and photographer, Lockhart's "Stanley "Tom" Durrell, Tinsmith" monumentalizes a worker's lunchbox and its contents. The lunchbox becomes a kind of portrait of its owner, a tinsmith at Maine's Bath Iron Works shipyard. The exterior work is 60 feet high by 80 feet wide and located on the corner of Beverly and San Vicente Boulevards.
— Geoff McFetridge: "Girl Lifting Skirt 2, 2011"
A graphic designer and artist who has created works for international brands, Hollywood films and local shops, McFetridge's "Girl Lifting Skirt 2" commands the corner of La Cienega and Third Street. At 70 feet tall, the mischievous image is slyly provocative, and evokes the open and civic spirit of Beverly Center's reimagining—itself, a kind of lifting of skirts.
— Catherine Opie: "Untitled (Beach Day #2, 2013 and Hands on Boards, 2016)"
Known for her evocative photographs of contemporary America, Opie's massive exterior work brings the beach to the Center. On the large exterior scrim, which spans an impressive 160 by 100 feet on Beverly Boulevard, Opie's blurred image of figures on a beach provides an arresting counterpoint to the teeming visual landscape of Los Angeles. Directly under the scrim, along the pedestrian walkway, Opie premieres new photographs, shot at local beaches, hands on surfboards.