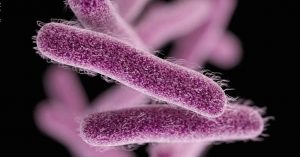 The state Department of Public Health issued a warning today about an outbreak of bacterial infections that cause a severe form of diarrhea. The infection, known as shigellosis, has infected nine men in the Los Angeles area whose sexual orientation has been determined, and four of them are gay. Three of the nine were hospitalized and one has died. Another four cases have been identified but the sexual orientation of those men hasn't been determined.
Symptoms typically start one to two days after exposure. They include diarrhea, fever, abdominal pain and often bloody stools. Shigella is most often spread through contaminated food or sexually via oral-anal contact (rimming). Those with normal and compromised immune systems are at risk. It's treatable with common antibiotics.
The L.A. LGBT Center issued a statement alerting gay men, who make up 40% of West Hollywood's population, to the outbreak.
"If you're a gay or bisexual man with fever and diarrhea, particularly if it's bloody, you should get immediate medical care," said Dr. Ward Carpenter, associate chief medical officer at the Center. He added that it's not uncommon for there to be clusters of Shigella infections among gay men.
The Center offers primary medical care, regardless of ability to pay, and accepts most insurance plans.