Round Hole Square Peg is opening tonight at the L.A. LGBT Center's Advocate & Gochis Galleries.
The exhibit, which was the first LGBTQ international exhibition to appear at Photo LA, debuted in 2014. The January 2016 Photo LA exhibition and its move to the Artists Corner Gallery, was the second iteration of the show, developed and curated by Phil Tarley.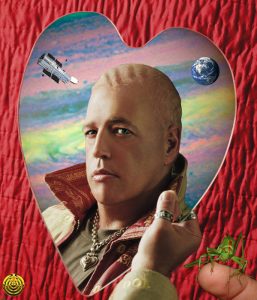 Round Hole Square Peg has two parts: photo artists selected from international submissions by a jury of queer photography gallerists and critics that include Paul Bridgewater (New York), Bert Green (Chicago), Jonathan D. Katz (New York), Valda Lake (Los Angeles) and Rick Perez (San Francisco). The second part of the show is a curated invitational. Katie Poltz, curator for the Los Angeles LGBT Center's Advocate & Gochis Gallery, has selected her favorite pieces for the installation presented at gallery.
Phil Tarley, a fellow of the American Film Institute and an artist member of the Los Angeles Art Association, writes about contemporary art, pop culture and photography for Fabrik Magazine. He curates at the A C Gallery in Los Angeles and founded Round Hole Square Peg, a biannual, international survey of LGBTQ photography shown at the AC Gallery at Photo LA. His personal series of political and ethnographic videos is housed in the permanent collection of the New York Public Library and has screened in film festivals and museums like the American Film Institute,and the Solomon R. Guggenheim Museum. In 2009, under his nom de porn, Phil St. John, Tarley was inducted into the Gay Porn Hall of Fame for his 20-year producing and directing career. His writing and photography have also appeared in the LA Times, the LA Weekly, The WOW Report, Adventure Journal, the Advocate, Frontiers, Adult Video News, Genre, Instinct and American Photo Magazine.
The exhibit runs through Oct. 1 and opens with a reception from 7 to 9 p.m. tonight at the Center's galleries a The Village at Ed Gould Plaza, 1125 N. McCadden Place in Los Angeles. Gallery hours are 6 to 10 p.m. Monday through Friday and 9 a.m. to 5 p.m. Saturdays