A transient accused of killing a woman he was dating and dumping her body in a West Hollywood trash bin pleaded not guilty today oto a murder charge.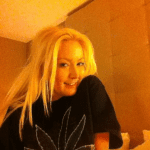 Abdulla Tario Camran, 29, is charged in the July 6 killing of Joie Nicole Kinney. The 28-year-old woman's body was discovered that day across from Cedars-Sinai Medical Center in the 8700 block of Beverly Boulevard. Authorities have not said how Kinney was killed.
Camran, who was charged with murder on July 14 and taken into custodyBfive days later, is due back in court Aug. 25.
He faces 25 years to life in prison if convicted, according to the
District Attorney's Office.