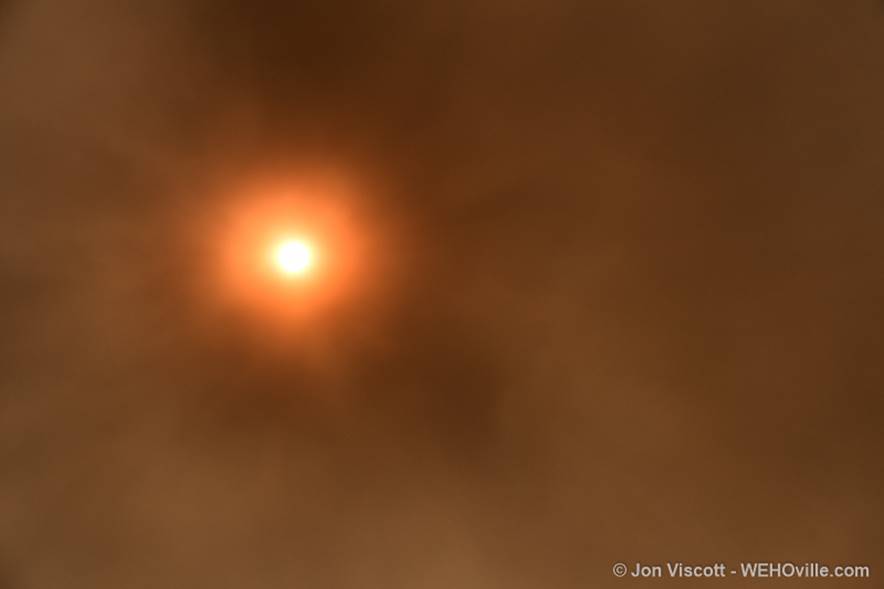 While it's roughly 30 miles away from West Hollywood, the wildfire that has enveloped more than 20,000 acres of the Santa Clarita Valley made its presence known today in WeHo.
Photos here by Jon Viscott capture the eerily red sun and the smoky sky that prompted a warning from the South Coast Air Quality Management District to avoid being too active outdoors. The district also advised seniors, children and those with respiratory or heart issues to stay indoors and keep their windows and doors closed.
The fire, which was first reported on Friday afternoon, quickly covered more than 5,500 acres by Saturday morning. Today it moved into the Placerita and Sand canyons and closer to houses, which prompted authorities to call for residents of the 1,500 homes in those areas to evacuate. Temperatures are projected to reach a high of 106 degrees in the area.
The L.A. County Department of Public Health has issued a heat alert for the Los Angeles basin and the Antelope, Santa Clarita, San Fernando and San Gabriel valleys. Dr. Jeffrey Gunzenhauser, the L.A. County interim health officer, warned that that those with heart disease, asthma or other respiratory disease should stay indoors as much as possible even in areas where smoke, soot, or ash cannot be seen or there is no odor of smoke. "It is difficult to tell where ash or soot from a fire will go, or how winds will affect the level of dust particles in the air, so we ask all individuals to be aware of their immediate environment and to take actions to safeguard their health," Gunzenhauser said.
People can participate in indoor sports or other strenuous activity in areas with visible smoke, soot, or ash, provided the indoor location has air conditioning that does not draw air from the outside, and it has closed windows and doors to protect the cleanliness of indoor air. If not, it is recommended that all individuals follow these guidelines as if they were outside.