Sheriff's deputies in West Hollywood last night arrested a man on the city's Eastside who allegedly tried to pull over another driver while pretending to be a police officer, driving an unmarked SUV with a siren blaring and flashing lights.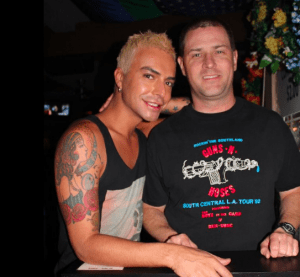 The man, Dennis Meade, was charged with impersonating a police officer (a misdemeanor), illegal possession of a firearm (a felony) and misdemeanor charges of carrying a concealed weapon in a vehicle and carrying a dagger. He also was charged with carrying pepper spray, which is a crime because he had been convicted previously of a felony. The incident occurred on Santa Monica Boulevard near Gardner. Meade was released on bail. On his Facebook and Twitter pages Meade identifies himself as vice president of sales for All City Wireless, director of security for Tiger Heat Worldwide and as involved with what he describes as an "Investigations_Unit at State Government Agency."
Meade's Twitter account has the tag @ShrfDennis, and his profile identifies him as a " Center-Right conservative Christian." It contains numerous retweets of posts by the L.A. County Sheriff's Department and a tweet dated July 9 in which Meade claims to be working in the Hollywood division of the L.A. Police Department. WEHOville has been unable to confirm whether that is true or to learn the cause of Meade's previous felony conviction. Meade, who is known in West Hollywood's gay nightlife community, also has posted tweets showing him following gay porn performer Billy Santoro.
While he was booked as Dennis Meade, Meade's Facebook page identifies him as Dennis Kyocera. His numerous Facebook posts are mostly about law enforcement. However the photos he posts on Facebook also call out his work as a security guard at various gay clubs and his visits to clubs such as Revolver, Bar 10 and the now-closed Eleven nightclub in West Hollywood.