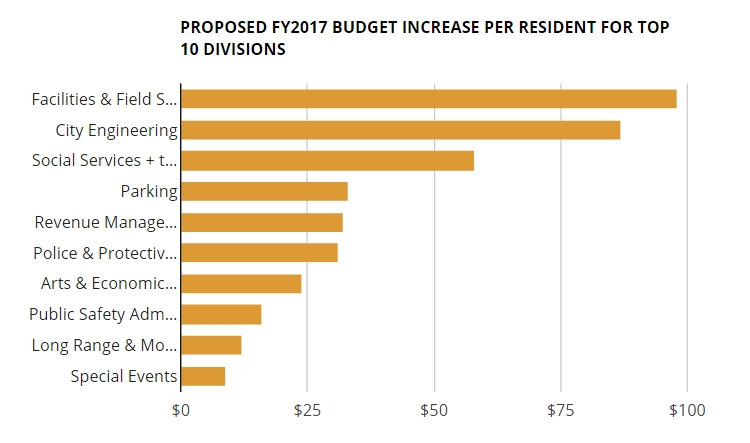 West Hollywood's budget for the coming year prioritizes new recreation and cultural facilities, streets/sidewalks, social services/transit, parking and public safety. That is according to an analysis by WeHo by the Numbers of the city's proposed budget for fiscal year 2017. The fiscal year runs from July 1 to next June 30. The city council will consider the budget at Monday night's meeting.
The proposed budget is $127 million or $3,540 per resident. It includes $114 million for operations and $13 million in capital projects. Capital projects involve buying, building or repairing major assets. For example, one capital project involves renovations at the newly purchased Coast Playhouse. The money already approved for Phase II of West Hollywood Park — including the new recreation center — is separate from these numbers.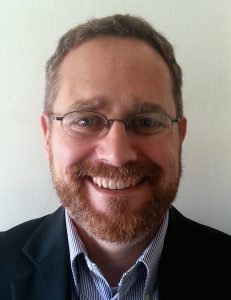 The proposed budget is 13% bigger than the prior year's budget. The increase is driven by capital projects, which would grow 126%. That suggests that capital projects are a big part of West Hollywood's budget priorities for the 2017 fiscal year. The proposed budget also shows a 7% increase in spending for operations. That includes 10% growth in contracted services and 6% more for wages and benefits.
WeHo by the Numbers used the proposed dollar increase in each city division's budget as an indication of West Hollywood's budget priorities. Each division is responsible for delivering particular city services, either to the public or to other divisions. The ten divisions with the biggest proposed dollar increases were Facilities and Field Services, City Engineering, Social Services (including all transit services), Parking, Revenue Management, Public Safety Administration, Police and Protective Services, Long Range and Mobility Planning, Arts and Economic Development and Special Events.
Facilities and Field Services would get almost $100 extra per resident to renovate the Coast Playhouse ($2.9 million) and another city building ($700,000).
The city engineer's budget would increase $87 per resident. The city is proposing to buy all of the streetlights from their current owner, Southern California Edison ($2.6 million). The increase also would pay for new pedestrian-safety traffic signals on Santa Monica Boulevard ($850,000). A smaller amount would be used to hire another engineer.
The Social Services division, which handles all of the city's transit services, would get $58 more per resident. That would pay for new CityLine and Dial-a-Ride transit vehicles, the continuation of the CityLineX rush-hour express service to Hollywood and an additional social services administrator.
The Parking division would get the fourth biggest increase, mainly to pay for a new parking lot ($700,000) at the corner of Santa Monica and Crescent Heights.
Police and Protective Services has the largest proposed budget by far (not counting transfers among city funds). It would be about $525 per resident. But the proposed increase of $31 per resident ranks sixth among divisions. In percentage terms, it would be a 6% increase, the 18th biggest.
For more information, please see the WeHo by the Numbers article, What are West Hollywood's budget priorities for 2017?