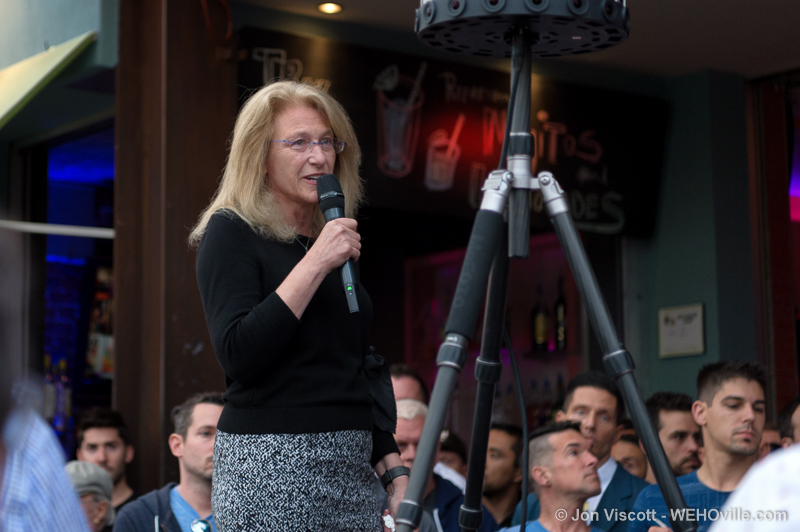 Several thousand people, including singer Lady Gaga, gathered outside Los Angeles City Hall tonight for a vigil in memory of the people killed during a weekend shooting spree at a gay/lesbian nightclub in Orlando, Fla. In West Hollywood, several hundred people came together at Micky's, the bar on Santa Monica Boulevard, for a similar vigil.
Lady Gaga, the 30-year-old pop star, long an advocate for the lesbian, gay, bisexual and transgender community, addressed the crowd and began a reading of the known victims' names.
"I know that you all here have been feeling a tremendous range of emotions since we heard about this horrible, painful attack in Orlando and on your and our community," she said, sometimes in tears and noting the massacre was the worst mass shooting in American history.
"I can't help but feel that this level of hatred, like all prejudicial crimes … this is an attack on humanity itself, this is an attack on everyone.
"Tonight, I gather here with you as a human being — in peace, in sincerity, in commitment, in solidarity — to take a real moment and mourn the tragic loss of these innocent, beautiful people."
Organized by the Los Angeles LGBT Center, the event also served as a rally "in solidarity to stand for peace, for community and for Orlando," according to organizers.
At Micky's, speakers included Keith Kaplan, chair of the West Hollywood Chamber of Commerce, Mayor Lauren Meister, Capt. Holly Perez of the West Hollywood Sheriff's Station and Donna Finkelstein, a member of the board of Women Against Gun Violence. WAGV is a group focused on gun violence as a women's issue and on violence prevention on a community level.
City Councilmember John D'Amico also attended the event. Council members John Duran and John Heilman attended the Los Angeles City Hall event and Councilmember Lindsey Horvath was at a conference in Washington, D.C.  Duran spoke at the L.A. City Hall event.
At the Micky's vigil, each of the speakers deplored the Orlando massacre, in which 49 people were killed at a gay nightclub on Sunday morning by a gunman who was later fatally shot by police. Some 300 candles were lit and a moment of silence was declared in memory of those who died. Meister called on the crowd to write to federal legislators demanding they increase gun regulation.
Perez also talked about the last-minute decisions made on Sunday after the arrest of a heavily armed man in Santa Monica who said he was going to attend the LA Pride event in West Hollywood. Earlier, at a meeting of the city's Public Safety Commission, Perez said she consulted early on Sunday with members of the West Hollywood City Council and other city officials as well as with Christopher Street West, the group that manages the annual LA Pride event. Among other things, she called on the L.A. County Sheriff's Department to provide a helicopter patrol of West Hollywood to increase security. Perez said the fact that the man had been arrested and that they added extra security made her confident that the parade could go on.
Perez said she knew the decision to move forward with the parade was the right one. She said people stopped her to say they had never gone to the Pride parade this year but did on Sunday because of what happened in Orlando.
A young man who identified himself as Eddie was one of several community members who spoke at the Mickys event. He said he was from Orlando and that his parents and his sister had called after the massacre there and begged him to avoid Sunday's LA Pride parade. "I was actually scared to be who I am," he said. "But I told them there's no way I cannot do this."
Another speaker, Mike Gerle, a West Hollywood resident who works at City Hall, recalled his days as a bartender at Revolver, next door to Mickys, and how he found support as a gay man with HIV in West Hollywood.
"This is our church," Gerle said of the city's gay community. "This is sacred ground and we need to defend it… This is our queer village."
The L.A. chapter of the Brady Campaign to End Gun Violence had an event on Sunday at Sal Guarriello Park in West Hollywood. It included a moment of silence and brief speeches. Those attending sang a song with a rabbi and then lined Santa Monica Boulevard with signs urging gun control.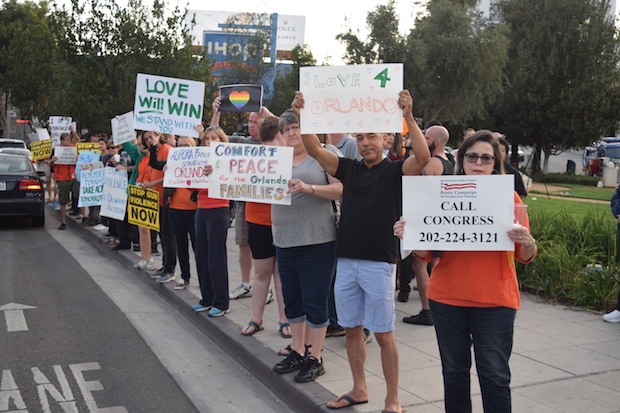 More images of the vigil at Mickys, provided by photographer Jon Viscott, are on the pages that follow: