A town like West Hollywood, where the sale of fur is banned and dog owners are officially designated as their "guardians," nevertheless tolerates if not enjoys the sale and consumption of meat.
But will it tolerate the fact that owners of one of the city's most prominent vegan restaurants have been exposed as meat eaters?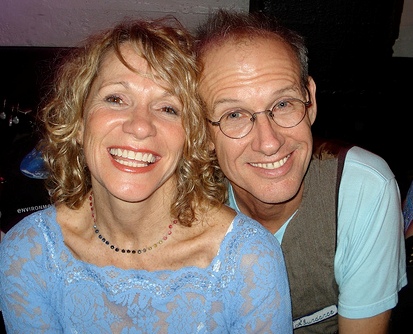 Stories in Hollywood Reporter and the U.K.'s The Guardian say animal rights activists have found and made public meat-friendly blog entries from the website for Be Love Farm, the Vacaville farm owned by Matthew and Terces Engelhart (Terces, by the way, is Secret spelled backwards). The blog posts make clear that they are raising, slaughtering and eating animals on the farm, which is north of San Francisco. The Engleharts own the famous Cafe Gratitude vegan restaurant in San Francisco and one in Los Angeles and Mexican-themed Gracias Madre vegan restaurants on Melrose Avenue in West Hollywood and in San Francisco. They promote themselves as a somewhat mystical couple with a website titled Eternal Presence.
Photos on the farm's website, The Guardian reports, include "a freezer full of pastured beef, jars of gravy and Matthew enjoying a hamburger, with posts on their 'transition' into meat products after nearly 40 years of vegetarianism.
The Hollywood Reporter reports that the couple have received death threats after it was revealed last week that they were slaughtering and eating animals.
And there are angry comments on the Cafe Gratitude Facebook page. "Well now you might as well change your name to Cafe Ingratitude," wrote a commenter identified as Vanessa Perego. "You made a name for yourself as a vegan establishment and now you turn around and kill poor innocent animals on your very own farm. Not a fan of fake, all in the name of the dollar bill."
"Very sad to hear this. Giving animals a beautiful life only to then take a knife to their throats is The Ultimate Betrayal," writes Molly Flanagan on the Gracias Madre West Hollywood Facebook page.
"I just found out you raise and slaughter animals on your 'Be Love' Farm. Not very loving. Skip the psych babble about peace and love. It begins on your plate," wrote Hulya Johnson on the same page.
"People have taken up the mob mentality," Matthew Englehart told the Reporter. "It saddens me that the choices we made in the privacy of our home would lead people to feel so betrayed that it's elevated to threats on our lives. I'm very discouraged."
In a statement later, he said: "Cows make an extreme sacrifice for humanity but that is their position in God's plan as food for the predators. We can be part of that sacrament."