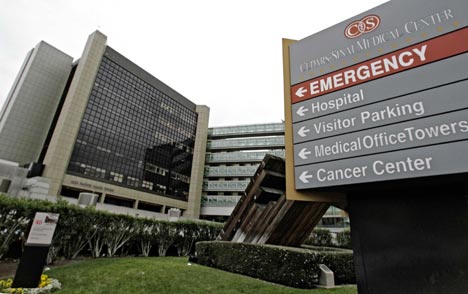 Cedars-Sinai Medical Center scored a "C" in a Spring ranking of hospital safety by the Leapfrog Group.
The non-profit group's quarterly "Hospital Safety Score" gave an "A" to Kaiser Permanente's hospitals and medical centers in Downey, Harbor City, Los Angeles, West Los Angeles and Woodland Hills. Other Los Angeles County hospitals with an "A" grade were White Memorial Medical Center in Los Angeles, Glendale Adventist Medical Center in Glendale, Centinela Hospital Medical Center in Inglewood and UCLA Medical Center in Santa Monica.
On the other end of the spectrum were hospitals in Los Angeles County ranked "F." They included Downey Regional Medical Center in Downey, the Methodist Hospital of Southern California in Arcadia and Whittier Medical Center in Whittier.
Cedars had a good ranking on matters such as fighting MRSA infections, not leaving dangerous objects in a patient's body after surgery and managing complications after surgery. But its "C" ranking was based on several other issues, in each of which the best hospital scored zero. On several matters Leapfrog said that Cedars declined to provide the information necessary to calculate a score. Those included whether hospital staff carefully wash their hands to prevent spreading germs, whether the hospital staff accurately record prescribed medications, whether Cedars has in place a system to rack and prevent risks to patients and whether breathing ventilators are properly cleaned and maintained. Cedars also declined to offer information needed to prove that it conducted training to improve safety, had enough qualified nurses on staff and budgeted money towards and implemented effective leadership to reduce patient risks.
Cedars disputed the findings of the Leapfrog study.  "Cedars-Sinai supports efforts to promote high quality and safe patient care," a spokesman said in an email to WEHOville. "To accomplish this goal, the medical center relies on valid and reliable data. Cedars-Sinai currently does not participate in Leapfrog's Hospital Survey due to concerns about its validity.
"As in the past, Leapfrog's scoring methodology continues to be biased against hospitals that do not participate in its survey. Leapfrog relies on secondary data sources to evaluate these hospitals. The secondary data sources are not awarded the same amount of weight as data from Leapfrog's survey. Further, the information from hospitals participating in the Leapfrog survey is 'self-reported' and not subject to any outside audit or validation, raising serious questions about the usefulness of the grades to make accurate and reliable comparisons between hospitals.
"The Leapfrog methodology is flawed in another way as well: The grades use 'composite' measures that can be misleading because they rely on individually disparate safety scores that cannot be combined to produce one reliable grade. In essence, such a composite provides an unreliable 'apple to oranges' comparison." The spokesman said Cedars also was concerned that some of Leapfrog's data is two to three years old.
Issues involving infections in which Cedars scored belong average were:

Clostridium difficile infection. C. diff is a bacterium that can cause diarrhea, abdominal pain, loss of appetite, and fever, the Hospital Safety Score report says. "Most C. diff cases occur in patients taking antibiotics, and fully killing the bacteria in an infected patient can be very difficult. C. diff can spread on contaminated equipment or by providers who fail to properly wash their hands between patients." Cedars' score was 1.339 compared to the average hospital's score of 0.888 and a score of 2.111 for the worst hospital sampled.
Infection in the urinary tract during an intensive care unit stay. If a patient is in the Intensive Care Unit (ICU), he or she may require a urinary catheter, the Safety Score report says. "Patients with catheters are at risk for developing a dangerous infection in the urinary tract. These serious infections can lead to other complications, increase recovery time, and can often lead to death." Cedars' score was 1.414 compared to the average hospital's score of 0.945 and the worst score of 3.281.
Surgical site infection after colon surgery. The Safety Score report says "this infection happens after surgery in the part of the colon where the surgery took place. These infections can be very serious, and may spread throughout the body. A patient with this type of infection often faces a long recovery in the ICU. Some people even die from the infection." Cedars' score was 1.946 compared to the average hospital's score of 0.959 and the worst hospital's score of 3.333.
Surgical issues where Cedars scored below average were:

Collapsed lung. A collapsed lung is when air leaks out of the lung and goes into the area between the lungs and the chest wall. It can happen when a doctor or nurse is inserting a catheter, a feeding tube, or even a pacemaker. This kind of lung injury can be serious and can cause severe chest pain and other complications. Cedars' score was 0.51 compared to the average hospital score of 0.39 and 0.64 for the worst hospital score.
Dangerous blood clot. A blood clot is a gathering of blood cells in a vein, which can be caused by damage to tissue during surgery. Most blood clots form in the leg but the clot can break away and travel through the bloodstream to other areas of the body. If the clot travels to the lungs and gets stuck, it can prevent oxygen from getting into the blood. This can lead to chest pain, unconsciousness, and even death. Cedars's score was 8.96 compared to 4.18 for the average hospitaland 10.12 for the worst hospital.
Safety practices to prevent errors where Cedars scored below average were:

Ordering medications through a computer. Hospitals can use Computerized Prescriber Order Entry (CPOE) systems to order medications for patients in the hospital, instead of writing out prescriptions by hand, the Safety Score report states. "Good CPOE systems alert hospital staff if they try to order a medication that could cause harm, such as prescribing an adult dosage for a child. CPOE systems help to reduce medication errors in the hospital." Cedars' scored 65 on this metric compared to 70.45 for the average hopsital and 5 for the worst hospital.
Communicating with patients about medicine. "Patients' perspectives of care are an important part of patient safety," the report states. "The Communication about Medicines measure reflects patients' feedback on how often hospital staff explained the purpose of any new medicine and what side effects that medicine might have. Effective communication about medicine prevents misunderstandings that could lead to serious problems for a patient." Cedars scored 2 on communicating about medicine compared with an average hsopital score of 2.55 and a score of 1 for the worst hospital.
Communicating with patients about their discharge from the hospital. "Patients' perspectives of care are an important part of patient safety. The Communication about Discharge measure summarizes how well the hospital staff communicated with patients about the help they would need at home after leaving the hospital. The measure also summarizes how often patients reported that they were given written information about symptoms or health problems to watch for during their recovery. " Cedars scored 3 on this measure compared with 3.18 for the average hospital and 1 for the worst hospital.
Safety problems at the hospital or medical center where Cedars scored below average include:

Air or gas bubble in the blood. An air or gas bubble (air embolism) stops blood from flowing through the body. This serious mistake can happen during surgery or other procedures, like getting an injection. If blood flow is blocked, a patient can suffer a stroke or die, the Safety Score report says. Cedars scored 0.027 on this metric compared with a score of 0.0003 for the average hospital and 0.117 for the worst hospital.
More detailed information about the Hospital Safety Score report is available online.