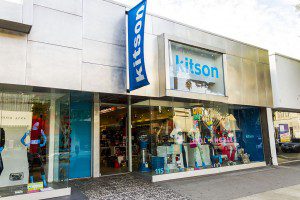 It's back! Or will be soon. In an interview with Racked LA, Fraser Kitson Ross says he plans to reopen the Kitson store at 115 Robertson Blvd. under the moniker Kitross, a play on his name.
A retailer of contemporary apparel, Kitson announced in December that was closing all 18 stores. They are located throughout Southern California with one in Portland, Ore., and one in Las Vegas. Kitson's headquarters store was at 115 Robertson, south of Beverly. It opened in 2000 and quickly became known for its casual, high end apparel. Kitson also had a prominent location at 8590 Melrose, west of La Cienega, and a children's store at 116 N. Robertson. Tbe chain was founded by Fraser Kitson Ross.
The closing of Kitson on Robertson was one of a number of store closings that have led some to call the blocks of Robertson between Beverly Boulevard and and 3rd Street "Jay Luchs Boulevard," after the luxury real estate agent whose "for lease" sign is in so many store windows.
Kitson was acquired by Spencer's, the British firm, last year and Ross continued to work for the company as a consultant. In his interview with CurbedLA, Ross said he is working with Jay Luchs to finalize a deal and that Kitross will be bigger than the previous store with a focus on "take-and-go" items. He said it will promote local designers. Ross said the shop may be open next month.