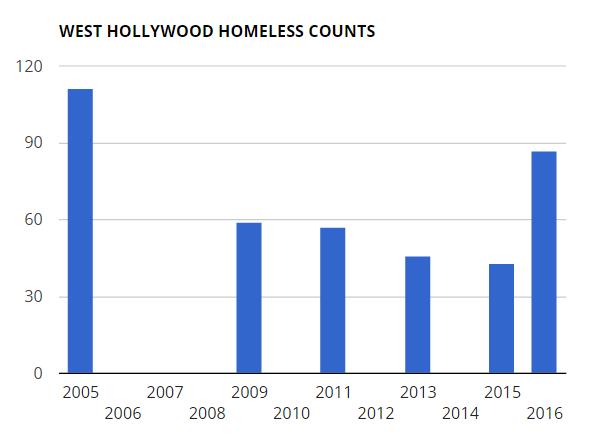 This year's count of homeless people in West Hollywood doubled from 43 to 87, though that was not the highest count to date. The highest was 111 in 2005, which was 28% higher than the 2016 count. That's according to a new analysis by WeHo By the Numbers.
As part of a regional effort, the city has counted the number of homeless people in West Hollywood every other year since 2005. The count was also done on January 28 of this year. In the latest count, over half of the homeless people were found east of Fairfax Avenue, they were all individuals (no families), and the majority were men over age 25.
WeHo By the Numbers estimated the rate of homelessness in West Hollywood and four nearby cities. West Hollywood had about 24 homeless people per 10,000 residents in 2016. That was a third of Santa Monica's rate and much lower than Los Angeles. It was three times Culver City's rate and six times that of Beverly Hills.
The analysis also looked at how the homeless counts have changed over time. West Hollywood's count declined from 2005 to 2015, then rose sharply this year. The pattern is somewhat different for three larger areas: Los Angeles County, the Westside and the Los Angeles core (Downtown, Hollywood, etc.). In those areas, the counts declined until 2011, versus 2015 in West Hollywood. Then they started rising again, but stayed below the 2005 levels, as they have in West Hollywood.
Among Westside cities, Santa Monica had a big drop from 2009 to 2010, and the count has been stable-to-declining since then. In Beverly Hills, the number has declined since 2009. Culver City had stable counts in 2009, 2011, and 2013, but a jump in 2015.
For more information, please see the WeHo By the Numbers article, How many homeless people are in West Hollywood?