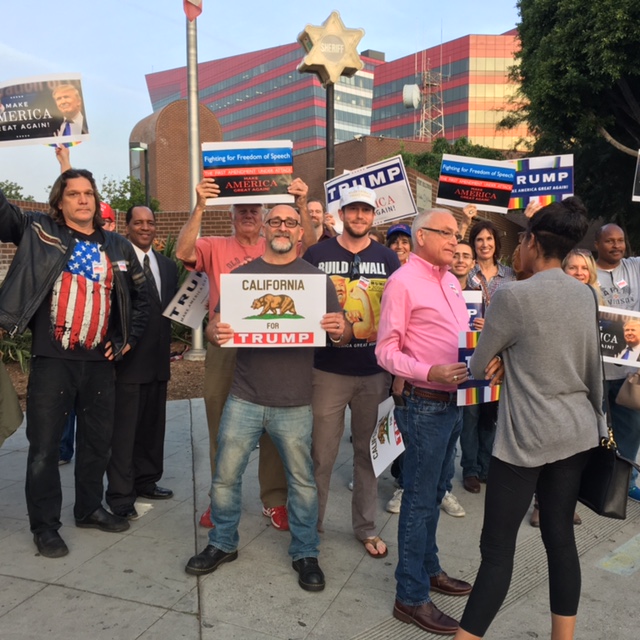 Supporters of Donald Trump staged a rally in West Hollywood this evening that was as much a protest against Mayor Lindsey Horvath's declaration that Trump isn't welcome in WeHo as it was a show of support for the contender for the GOP presidential nomination.
About 30 people carrying signs proclaiming "Trump, Make America Great Again" and "Fighting for Freedom of Speech" gathered on the southeast corner of Santa Monica Boulevard at San Vicente just after 6 p.m. Jake Lee, a West Hollywood resident, said Horvath's statement, mailed to Trump and then published in the Advocate magazine on March 28, inspired him to organize the rally.
"Lindsey Horvath took it upon herself to ban Trump and that really pissed me off as an American citizen," Lee said. "I was born and raised in West Hollywood. I still live in West Hollywood. Throughout my life I've seen my gay friends struggle to be who they are as conservative and Republican without being blackballed. People should be able to be who they are without fear in this city."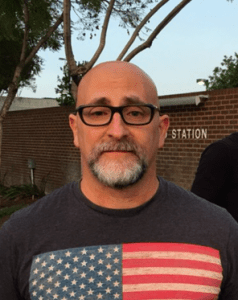 "I'm tired of being called a bigot and anti-immigrant," Lee said. "My mother is a Mexican immigrant, but she's legal. Mr. Trump supports legal immigrants."
Lee said the reaction from drivers streaming along Santa Monica during rush hour was largely positive. "A lot more thumbs up in support than opposed," he said.
However Ernie White, spokesman for Californians for Trump, who attended the rally, said he was surprised at the racist and homophobic comments from passersby.
"We were called bad fagg-ts and nig-ers," said White, who is African-American. His statement was verified by a young gay man standing next to him. "At all the rallies I've been at, I've never heard anyone use those words, just in West Hollywood."
In her statement, Horvath decried what she described as "hate speech and implicit calls to violence coming from your campaign." She said that has "no place in any community in our country…
"With the primary making its way to California, as West Hollywood's mayor, I want to make very clear that your campaign of violence and intimidation is not welcome in our city."
Horvath's statement has attracted national attention, with stories in The New York Times and the Washington Post and interviews with her by MSNBC and CNN. It also has drawn criticism from those who say it is an unconstitutional effort by a government official to limit freedom of speech.