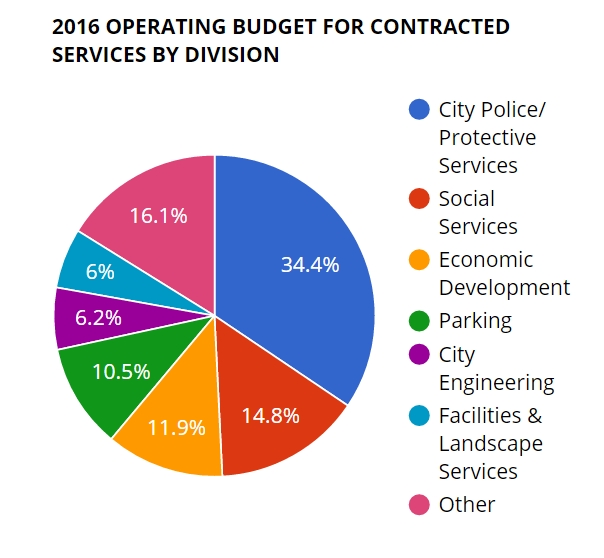 The City of West Hollywood spends over $50 million a year for contracted services, 50% more than it spends on its own staff ($34 million). That's according to a new analysis by WeHo by the numbers.
The city buys services from businesses, individuals and other governments. Some of those services are provided directly to the community, such as policing by the L.A. County Sheriff's Department. Others are used by the city in its operations.
The 2016 operating budget includes $51 million for contracted services. The amount increased 22% from 2013 to 2016. In addition, the city has budgeted $5.8 million for capital expenditures in 2016. Much of that may be spent on contracts with construction and design firms.
One third of the $51 million is dedicated to policing and protective services ($18 million), most of it for the Sheriff's Department contract. The other big slices are for social services and transit ($8 million), economic development including tourism ($6 million), parking operations ($5 million), the city engineer ($3 million), and city facilities ($3 million). These amounts exclude capital projects like the new City Hall garage and the new recreation center.
The city has published a list of 664 active contracts as of November 2015. There are dollar amounts for 571 of them. Among the 571, the biggest contracts are for:
Tourism promotion (Visit West Hollywood), $22 million over 5 1/2 years
Parking enforcement, $20 million over 14 years
CityLine/Dial-a-Ride transit services, $18 million over 10 years
Construction of the new City Hall parking structure, $12 million over 2 years
Red light photo enforcement, $7 million over 14 years
WeHo by the Numbers also estimated the annual dollar amount for each of the 571 contracts. Based on the annualized numbers, other big contracts include: a swap of transit funds with another city, design work for the park/recreation center, janitorial services, parking garage operations, security ambassadors and oversight of the park/recreation center work.
For a list of active contracts and their amounts, please see the WeHo By the Numbers article, What services does West Hollywood contract for?