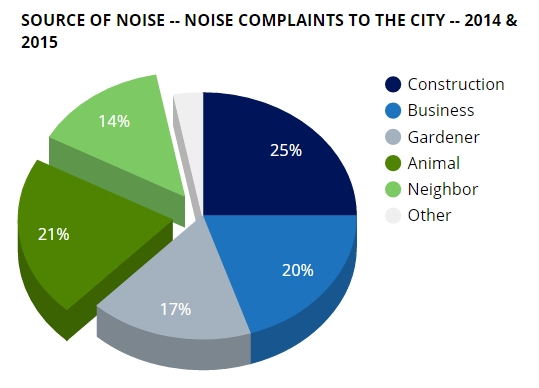 Construction was the biggest source of noise complaints received by the City of West Hollywood in both 2014 and 2015, according to a new analysis of city data by WeHo by the Numbers.
The analysis looked at 1,862 noise complaints made over two years. The number of complaints did not change much from year to year. There were 922 in 2014 and 940 in 2015, excluding duplicates. Since the data came from the City of West Hollywood, the numbers do not include complaints that were made only to the sheriff's station.
Together, construction, local businesses and gardeners were the noise sources in almost two-thirds of complaints. Construction was 25% of the total, local businesses were 20% and gardeners were another 17%. These categories differ from the city's.
The following excerpts illustrate the kinds of complaints the city received about noise generated by construction, local businesses and gardeners:
"[Resident] called to state that construction work was being done at 6 am. Caller was awoken by loud hammering."
"Resident was awoken by loud noise / vibrating bass coming from the nightclub."
"Resident is furious about the gas leaf blower going on outside his apt window. He is trying to have a phone meeting but is unable to hear."
About one-third of noise complaints to the city were about noise from neighbors (14%) or their pets (21%). Half of the neighbor noise issues were due to loud music or parties. Examples of neighbor/pet complaints include:
"Dog has been barking for several hours. This is an on-going problem."
"[Neighbor] plays music loud from 11 PM to 3 AM – every weekend."
"2 individuals on balcony at 2 AM…loud conversation."
For more information, please see the Weho by the Numbers article: What West Hollywood noise do people complain to the city about?