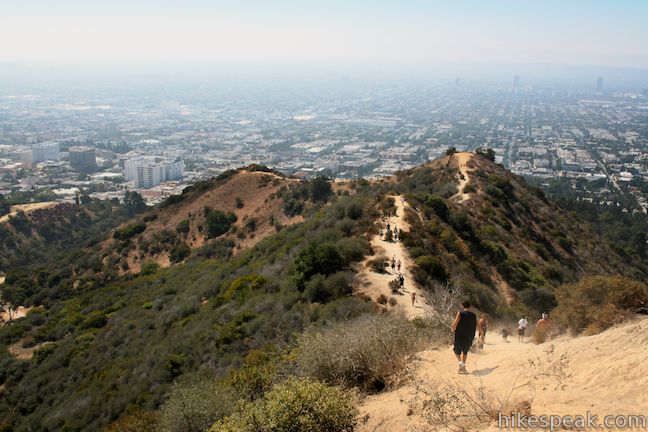 Runyon Canyon, perhaps the post popular place to hike in greater West Hollywood, will be closed from April through July.
The closure was announced today by the L.A. Department of Water and Power (DWP). The DWP said the closing is necessary to beging the Runyon Canyon Water System Improvement Project, which is intended to provide an improved fire protection system, a reduction in pipe breaks and improvements in water quality. The project scope includes replacing approximately one mile of six-inch pipe that runs through the park.
While the hiking trails and other parts of the park will be closed, the Runyon Canyon Park Yoga Field will remain open.
The 160-acre park, which can be entered off Fuller Avenue and Mulholland Drive, sits just outside of West Hollywood. It is beloved by West Hollywood residents because of its dog-friendly policies, with dogs allowed to be off-leash in most of the park. It also known for its celebrity sightings as well as its stunning view of greater Los Angeles from Indian Rock.
Runyon Canyon Park was purchased in 1984 from its last private owners, Adad Development, for use as a city park by the Santa Monica Mountains Conservancy and the City of Los Angeles. "No Man's Canyon" was the English name given to the gorge which lies above Franklin at Fuller Avenue, and extends north to Mulholland Drive. It is reputed to have been a seasonal campsite for local Gabrielino/Tongva Indians, who hunted in the area known to them as the Nopalera.
In 1867, "Greek George" Caralambo, AKA Allen, received the 160-acre (65 ha) parcel by federal patent in appreciation for his service in the US Army Camel Corps. Allen became famous by association when the bandit Tiburcio Vasquez was captured while hiding out at his home in 1874.
The canyon is named for Carman Runyon, who bought the land in 1919 after retiring as a coal magnate. He and his wife, Ellen, used it for horseback riding and hunting.
EDITOR'S NOTE:  An earlier version of this story erred in saying Runyon Canyon Park will be closed for three months.  In fact it will be closed for four months.  The story has been corrected to reflect that.