Many West Hollywood residents already know the story of Joe "Papa Joe" Aviance, which was covered by local media in 2013. But when Papa Joe appeared before the West Hollywood City Council on Monday people in the audience continued to express their amazement at what that man had accomplished — losing 250 pounds in five years???.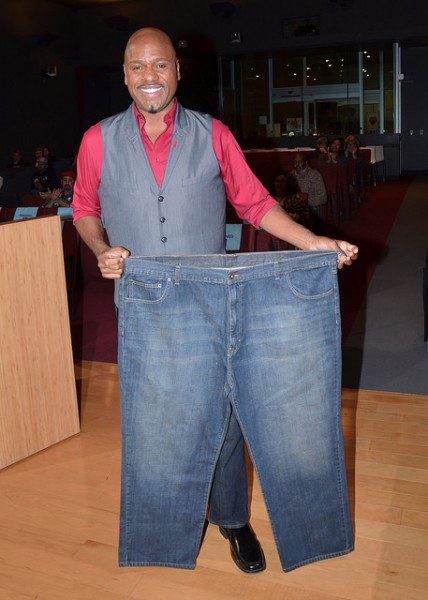 Papa Joe accepted an award for his work in raising awareness about heart disease (February is American Heart Month). And he told his own story about moving from danger to fitness and health. Finally he held a pair of his old size 56-inch jeans next to his 34-inch waist, the best possible illustration of what he has accomplished.
In an interview with WEHOville, Papa Joe said it was a viewing of "Last Night a DJ Saved My Life" that motivated him to do something about his weight. That video, in which Papa Joe starred as the bodyguard of Lula, the London-based indie pop singer, gave Papa Joe an opportunity to show his vocal skills and his ability to shake it. He starred in the club version of the video and got a call from a producer who said he wanted to make him the next B.I.G. for house music. But watching the video bothered Papa Joe — it was clear he weighed 450 pounds. "The music video was playing all over the place, and I couldn't stand the thought of people seeing me like that," he said. "It was then that I decided to lose the weight once and for all.
"I had a nervous breakdown and opened up my refrigerator and got rid of everything that was going to get in my way," Papa John said. "I was left with ketchup and mustard." Papa John didn't have the money to go on an expensive diet plan or shop at an upscale store. He decided to fill his refrigerator by going shopping at the 99 Cents store on La Brea Avenue. There he was able to buy fresh fruit and vegetables cheaply. The other part of his plan was to walk.
Papa Joe then lived on Flores at Fountain Avenue and he committed to walking five miles a day. "I woke up every day at 7 a.m. and I just started walking," he said. Papa Joe had an aversion to gyms. "I hated the gym mentality," he said. So he also exercised at home to build muscle, with the plan being to avoid the hanging skin that would result from losing that much weight. It worked. He lost that weight without the use of a gym, gastric bypass or crazy fad diets, "and I feel healthier and happier than I ever have before," he said. "I have the mentality that if I can do it, anyone can do it."
Today Papa Joe Aviance is a health and wellness advocate (he served as the 99 Cents store brand ambassador from 2013-2015). He also is a lifestyle change ambassador for the American Heart Association and does life coaching. He still keeps a hand in the recording business and has a reality TV show in the pipeline.