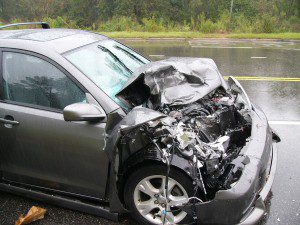 It's summertime in Los Angeles, and drivers are distracted!  The top is down. The music is up. The sun is shining brightly, sometimes blindingly.  Guys and girls are strolling down the sidewalks in shorts, cropped tops or shirtless causing drivers to crane their necks to watch them go by.  Summer hours mean more partying, more people driving under the influence, more careless driving. And then there are the texters.  You see them with their phones in one hand, their eyes going up and down between the road ahead and the phone.  Before you know it….BAM!  They've run right into the rear end of the car ahead of them.
With all of these distractions, accidents will happen.  When they do, knowing how to react can save you time, money, and stress.  Whether you or someone you know has already been involved in a motor vehicle accident, or you just want to be prepared in the event you are in a wreck, here is a step-by-step guide of what to do when you get hit by a car.
STEP ONE: CALL 911
Whether your bumper was dented by a Prius, or a G-Wagon t-boned your MINI Cooper, call emergency services immediately. The 911 operators are the fastest way to dispatch emergency responders, like police, firefighters, and emergency medical technicians, to the scene of the accident. Even if no one suffers life-threatening injuries, it is important for a police officer to investigate the accident in order to prepare an official police report. Often this report identifies everyone involved in the collision, their insurance information, contact information of witnesses, and a description of what happened, including an opinion as to who was at fault for the wreck. This report is important for supporting any claim you might make against the other driver(s) for your losses.
STEP TWO: IDENTIFY INJURIES
Sometimes injuries from a car accident are obvious, and sometimes your adrenaline starts running, so you do not feel pain until later. If you feel pain immediately after the accident, make sure you report your injuries to the investigating officer or any treating emergency physicians that come to the scene. If an ambulance does not transport you to the hospital from the accident, get yourself to an emergency room or quick-care clinic to get checked out by a doctor as soon as possible. Some common car accident injuries may not be outwardly visible, but they can still cause serious damage!
It is possible you will not feel pain until later in the day, or possibly a day or two after the crash. The symptoms of soft tissue injuries, which are commonly suffered by car accident victims, frequently increase over a few days as inflammation and swelling set in. Once you start feeling any symptoms of an injury, see a doctor as soon as possible. Insurance companies require documented proof that you are hurt in the form of medical records, so it is important to get checked by a doctor quickly if you want the other driver's insurance to pay for your medical treatment and other injury damages.
STEP THREE: INVESTIGATE THE INCIDENT
If you decide you are well enough to safely exit your car without causing yourself further injury, now is the time to perform your own initial investigation of the accident while you wait for an officer. Exchange contact and insurance information with the other people involved in the motor vehicle accident. You will want names of everyone involved, phone numbers, car insurance information, license plate number, and make and model of the other vehicle(s) involved. Try to take pictures before anyone moves their vehicle. These photographs help support and recreate your version of the crash if necessary for your claim.
STEP FOUR: KEEP YOUR MOUTH SHUT
You have heard it on Law & Order a thousand times: what you say can and will be used against you. This is not limited to getting arrested. Other than stating the simple facts of what happened, it is best not to engage in a lengthy conversation with anyone at the scene that involves speculation, opinion, or assumptions. This includes your statement to the investigating officer preparing the police report. Do not accept blame for the accident or make any statements suggesting you may be responsible. Be as brief and succinct as possible.
STEP FIVE: CALL AN EXPERIENCED PERSONAL INJURY ATTORNEY IN WEST HOLLYWOOD
After leaving the accident scene and/or receiving initial medical treatment, discuss the details of the collision with an experienced car accident lawyer before talking to any insurance companies, including your own. An experienced personal injury attorney can analyze your version of what happened in the motor vehicle accident to determine whether they believe you are at-fault ("liable") for the wreck.
If the accident is not your fault, in California you can make a claim for your injuries and property damage against the insurance company that insures the driver of the vehicle(s) responsible for causing the collision. If the accident is your fault, your own insurance company will likely handle defending you against any claims brought by other people injured in the accident. Additionally, you may have to go through your own insurance if the person who caused the accident does not carry any, or enough, insurance to cover your damages.
However, this is just the beginning of a personal injury claim. You will be required to take additional steps to get the claim resolved including attending your scheduled medical appointments, filling out insurance forms, giving statements, and potentially even assisting your attorney or insurance company in a lawsuit. The process can be long and confusing. Luckily, the attorneys at California Injury Attorneys West Hollywood have over twenty-five years of experience handling personal injury claims. Someone is available 24/7 to assist you with questions about your car accident and injuries. Visit us on the Sunset Strip at 8872 Sunset Boulevard, West Hollywood, California 90069, or call us at (323) REAR-END for a free consultation!
"For more information or to chat live with a representative go to California Injury Attorneys.
Questions about driving under the influence or pedestrian safety? California Injury Attorneys offers more information here.