A hearing involving alleged Endangered Species Act violations was delayed today for the owner of a West Hollywood area curio shop that specializes in taxidermy, animal skulls and dried or preserved bats, scorpions and seahorses.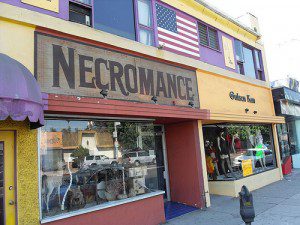 Nancy Delap Smith and her Melrose Avenue store, Necromance, are each charged with misdemeanor counts of violating the Endangered Species Act by knowingly importing protected seahorses and bat skulls without the proper permits, according to court documents.
U.S. Magistrate Judge John E. McDermott set a Feb. 22 status conference in the case.
"The laws are designed to protect plant and wildlife that is threatened," said Assistant U.S. Attorney Dennis Mitchell. "In this case, documentation is needed to bring these items into the country."
The case stems from packages sent from Indonesia to the store that were intercepted in March and May of 2011 by a U.S. Customs and Border Protection international mail facility.
Mailing labels identified the contents as containing keychains and freeze-dried bats "for educational study," according to the declaration of a U.S. Fish and Wildlife Service agent who investigated the case.
Upon examination, the first package allegedly contained numerous dried seahorses — attached to keychains — mantises, scorpions, tree frogs, sleeping fruit bats and hanging fruit bats, the agent wrote.
The package also allegedly included a document "which incorrectly or falsely" stated that the shipment contained no species on the CITES — Convention on International Trade in Endangered Species of Wild Fauna and Flora — checklist. The international agreement aims to ensure that trade in specimens of wild animals and plants does not threaten their survival.
The agent wrote that the second package, intercepted two months later, contained additional seahorse keychains and numerous bat skulls found to be protected under CITES. An invoice described the seahorse keychains as a non- CITES item, according to the agent's declaration.
Prosecutors contend that Smith was aware that the contents of the Indonesia shipments could contain protected wildlife products.