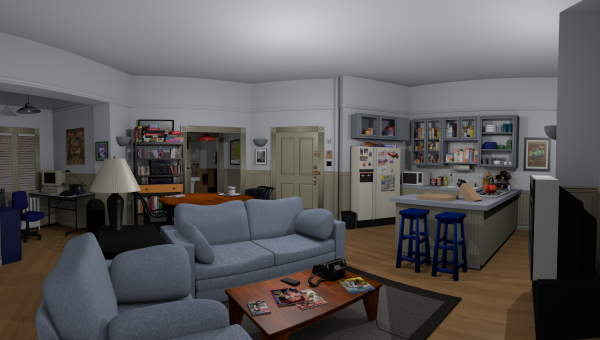 EDITOR'S NOTE:  Oops!  It appears that the upcoming installation of a model of Seinfeld's Upper West Side apartment actually is (just barely) within the convoluted boundaries of West Hollywood, as several readers have noted. WEHOville apologizes for the error.
Jerry Seinfeld's fictitious Upper West Side apartment in New York City is taking a trip to what some are calling West Hollywood (we call it Lower WeHo).
Hulu, the online TV and movie streaming service, is installing a replica of the apartment at 8445 Melrose Ave. just east of La Cienega (and south of West Hollywood) from Dec. 16 to 20. It will be open from 10 a.m. to 7 p.m. The installation is to celebrate and publicize Hulu's deal with Sony Entertainment that gives it exclusive rights to streaming video distribution of the nine-season Seinfeld show.
Hulu did a similar installation in June in New York City's Meatpacking District that drew long lines of visitors. In addition to a furnished replica of 5A, the Seinfeld character's one-bedroom apartment on the "Seinfeld" show, the Milk Studios installation included an exhibit of Seinfeld's props and set pieces.
The WeHo opening is just in time for Festivus, a secular holiday and a parody of Christmas that is celebrated on Dec. 23. It was the focus of the 1997 "Seinfeld" episode "The Strike," with a bare aluminum pole in place of a tree.
In its announcement of the installation, Hulu said that it will feature interactive elements, an aluminum Festivus pole lot and even more museum items from the set of one of "Seinfeld," the most popular, award-winning and longest-running comedy series of all time.