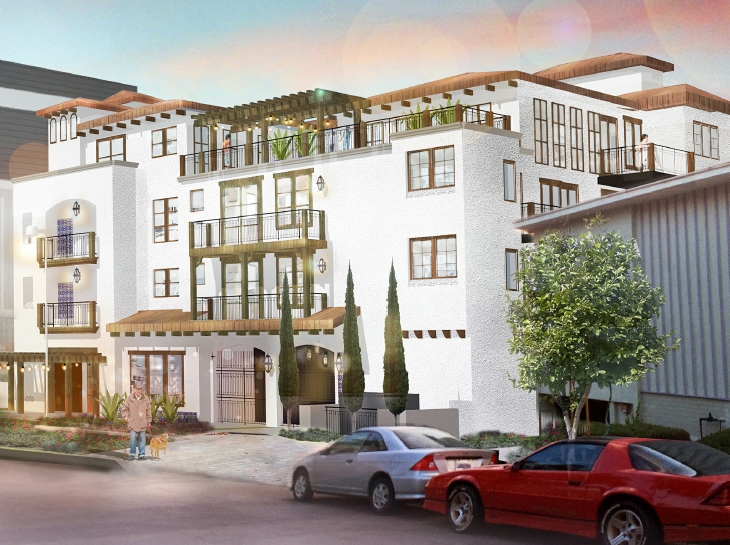 The design of Blue Hibiscus, a 22-unit affordable housing project proposed for Detroit Avenue, was praised tonight by the WeHo Planning Commission's Design Review Subcommittee and even some of the projects prominent opponents.
The building, designed in the Spanish Colonial Revival style, is intended to replace the Detroit Bungalows, two 1920s era buildings with a total of eight units that have been in relatively poor condition.
Members of the subcommittee said the design of the Blue Hibiscus building provided a nice transition from the stark Domain apartment complex under construction just south of it on Santa Monica Boulevard at Detroit and the houses north of it along Detroit. The building transitions from four stories on its southern end to three stories on the northern end. The architect for the project is Killefer Flammang Architects.
Among those praising the project design was Stephanie Harker, a member of the city's Rent Stabilization  Commission, who has objected to the demolition of the Detroit Bungalows. The design also was praised by Cathy Blaivas, like Harker an anti-development activist, who is a member of the city's Historic Preservation Commission. Michael Wojtkielewicz, a member of the city's Disabilities Advisory Board, suggested only that the exercise room and laundry room on the building's fourth floor by relocated so as not to disturb those in the apartments beneath them. Harker, Blaivas and Wojtkielewicz were appointed to the advisory boards and commissions by City Councilmember Lauren Meister, who has objected to demolishing the Detroit Bungalows.
John Altschul, chair of the Design Review Subcommittee, opened the meeting by reminding those in the audience that the only subject open for discussion was the design of the project. Several of its supporters said they expect opponents will raise other objections when it goes before the full Planning Commission on Dec. 3.
The Blue Hibiscus is a project of the West Hollywood Community Housing Corp., a non-profit organization whose mission is to build affordable housing for those with low incomes and special needs. It currently manages 17 projects in and around West Hollywood, including the Detroit Bungalows. Dr. Pamela Love, a resident of the bungalows, launched the campaign against their demolition. WHCHC has said that isn't feasible because of the high cost of brining the property up to code.