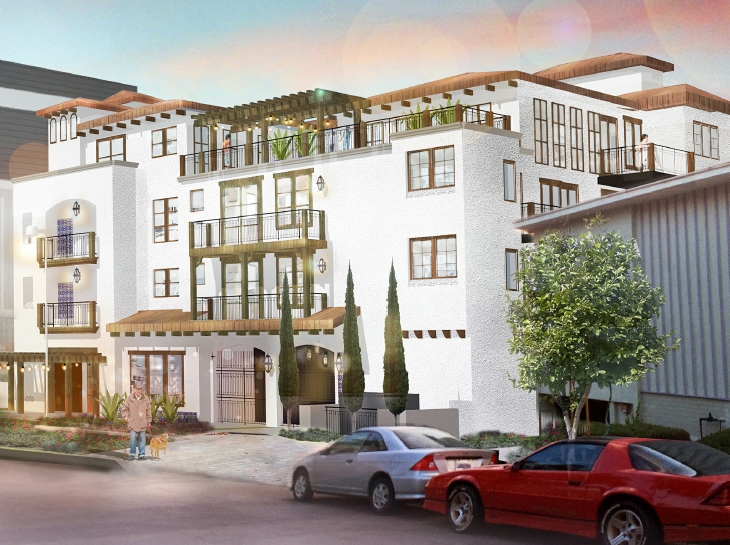 WeHo's Design Review Subcommittee on Thursday will take a look at an affordable housing development proposed for Detroit Avenue that has is likely to shed some light on where some of West Hollywood's most vocal opponents of new housing development really stand when it comes to affordable housing.
The development at 1125 N. Detroit St. is known as the Blue Hibiscus project. The developer is the West Hollywood Community Housing Corporation (WHCHC), a non-profit organization that builds and rehabilitates housing for low-income and other disadvantaged people. WHCHC announced plans last year to buy the adjacent lots at 1123 and 1127 N. Detroit St. with the intention of combining them with the Detroit Bungalows site next door. The Detroit Bungalows consist of two 1920s era buildings with a total of 10 units that have been in relatively poor condition because of their age. Robin Conerly, president of WHCHC, has said they originally were built for farm workers and that estimates a few years ago for upgrading them ranged from $500,000 to $1 million, and still wouldn't bring the units into compliance with city codes.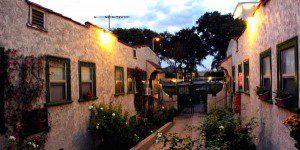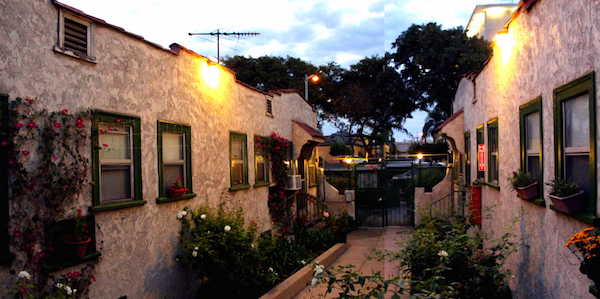 Dr. Pamela Love, a resident of Detroit Bunglows, launched a campaign against the demolition of that property that has drawn support from several outspoken opponents of denser development including Cathy Blaivas and Stephanie Harker. Blaivas is City Councilmember Lauren Meister's appointee to the WeHo Historic Preservation Commission and Harker is Meister's appointee to Rent Stabilization and Housing Commission. Michael Wojtkielewicz, Meister's appointee to the city's Disabilities Advisory Board, frequently speaks out at public meetings against WHCHC. Meister has been outspoken against what she sees as too much development in West Hollywood. The issue has been a political hot button for a while: Heidi Shink and Cole Ettman, unsuccessful candidates in the March and June campaigns for West Hollywood City Council, showed up at the Detroit Bungalows during their campaigns to express their support for keeping them.
Love has offered a variety of arguments against replacing the bungalows, ranging from the need to preserve a building built in the 1920s to the fact that the current residents like living there and shouldn't have to move and that she and others don't want to be displaced for the time it will take to build the new affordable housing development. Lately Love has objected that WHCHC won't allow her to receive a federal rent subsidy. However WHCHC wouldn't be able to move Love out of the Detroit Bungalows property during the new development if it authorized that subsidy. Love has made her arguments in a flurry of emails to a wide array of elected officials and media outlets and with a Facebook page called "Save the Detroit Bungalows." The debate has been littered with false statements, including that the current residents won't be eligible to move into the new building, all of which have been refuted by Robin Conerly, WHCHC's executive director.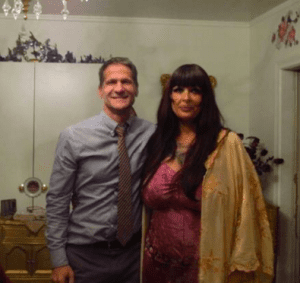 Conerly has pointed to the fact that the new building will more than double the number of affordable housing units now provided by the Detroit Bungalows as well as provide high quality housing.
While comments at Thursday's meeting are supposed to be focused solely on the project's design, it is likely that a number of public speakers will raise the affordable housing and development density issues. Some opponents of new development, such as Cynthia Blatt, have argued in the past that West Hollywood does not need more housing for low- and moderate-income people. But given the unpopularity of that stance in a city dominated by renters and founded on preserving renters' rights, Blatt and others have shifted their stance to argue that the city does need more affordable housing, but that it should not be included in market-rate housing projects, as has typically been the case.
Instead, they argue that developers should give money to the city's affordable housing trust fund so that the housing for lower-income people can be built elsewhere, an approach that some see as segregating the poor from the affluent and difficult to implement given that West Hollywood is the 16th most densely populated city in the nation.
So it will be interesting Thursday night to see what arguments can be made against the Blue Hibiscus project by those who are opposed to more development and who also say they support construction of more affordable housing. After all, the Blue Hibiscus project clearly is that.
The Design Review Subcommittee will meet at 5:30 p.m. Thursday at the Plummer Park Community Center, Room No. 5, 7377 Santa Monica Blvd. at Martel.