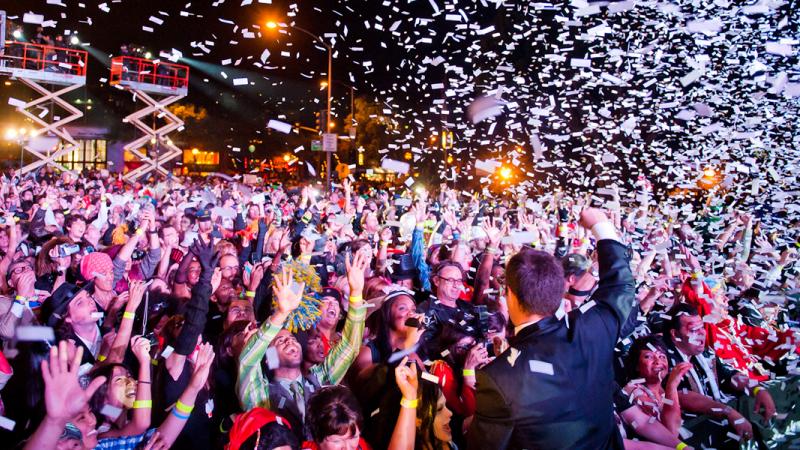 West Hollywood will host the world's largest Halloween Festival on Saturday.
The West Coast equivalent of New York City's Times Square New Year's Eve celebration, West Hollywood's annual Halloween Carnaval is expected to attract hundreds of thousands of participants. It will take place from 6 p.m. to 11 p.m. on Santa Monica Boulevard between Doheny Drive and La Cienega Boulevard.
"West Hollywood's Halloween Carnaval is one of the most exciting events of the year," said West Hollywood Mayor Lindsey Horvath. "There will be wonderful performances and entertainment — and of course, people who come out and celebrate Halloween in West Hollywood never hold back on amazing, elaborate costumes. It's really fun to see the creativity that people bring to this incredible celebration of Halloween and our city."
This year's Carnaval will have an anniversary theme as the city wraps-up a year of celebrations to recognize 30 years of cityhood. Carnaval 2015 will pay tribute to the 40th anniversary of the "Rocky Horror Picture Show." First released in 1975, this musical comedy horror film has become an international cult classic film and is the longest-running theatrical release in film history.
Mayor Horvath and members of the West Hollywood City Council will welcome "Rocky Horror Picture Show" icon Tim Curry, who will be named the City's honorary mayor. The ceremony will take place at 8:45 p.m. at the San Vicente stage located at the intersection of Santa Monica and San Vicente Boulevards.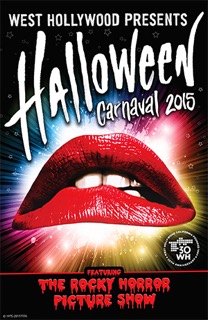 Staged over a one-mile stretch of Santa Monica Boulevard, this year's Carnaval will feature seven areas of entertainment featuring bands, DJs, dancers, artists and painters who will entertain costumed crowds for over five hours. The City of West Hollywood invites Carnaval-goers to get into the spirit and showoff costumes by uploading photos to social media sites with the hashtag #wehohalloween. There will also be photo stations at the Carnaval to capture images for display on Facebook.
West Hollywood's Halloween Carnaval was launched in 1987 and is rooted in the city's diverse culture and community. People come from all over the region and even travel from domestic and international spots to take part in Carnaval. Additional information is available as a PDF on the City's website.
Because of the crowds, there will be street closures on Saturday and on Sunday morning. The main closures are San Vicente Boulevard between Santa Monica Boulevard and Melrose Avenue from midnight on Saturday until 6 a.m. on Sunday, and Santa Monica Boulevard between Doheny Drive and Croft Avenue and Holloway Drive from noon on Saturday through 6 a.m. on Sunday. Additional street closure information is available on the city's website at: http://www.weho.org/visitors/events-in-the-city/halloween-carnaval/street-closures. Children and pets are discouraged from attending Carnaval because of dense crowds.
The city will suspend permit parking restrictions for Halloween Carnaval from 11 a.m. on Saturday to noon on Sunday. Carnaval-goers are reminded to observe the boundaries of West Hollywood. If parking occurs in the City of Los Angeles or in the City of Beverly Hills, all parking restrictions must be strictly observed. Public parking will be available at lots throughout the city for a fee; lot location and price information is posted on the City's website.
The City encourages Carnaval-goers to leave cars at home, to carpool or to use public transportation options. Metro offers several transit options to get to West Hollywood. A trip planner is available at www.metro.net.
A free, safe, and easy way to get to the Halloween Carnaval is the PickUp, which will have a special route for the occasion. From 8 p.m. to 11 p.m. Saturday, the PickUp will head east to west — Carnaval-bound passengers may board the PickUp at stops on the south side of Santa Monica Boulevard between Kings Road and La Brea Avenue. Then the PickUp will travel west along Melrose Avenue to drop passengers off at Kings Road and Santa Monica Boulevard.
From 11 p.m. to 3 a.m., the PickUp will only travel eastbound between Kings Road and La Brea Avenue. During the day, there will be an amended schedule and route for the Cityline shuttle. For additional information, please visit www.weho.org/wehopickup and www.weho.org/cityline.
The City of West Hollywood's WeHoTV will offer a hosted broadcast of the West Hollywood Halloween Carnaval at www.youtube.com/wehotv with a link provided at www.weho.org. Note that this is a live broadcast and due to the nature of the event, viewer discretion is advised.
Take a look at fun facts about West Hollywood's Halloween Carnaval!