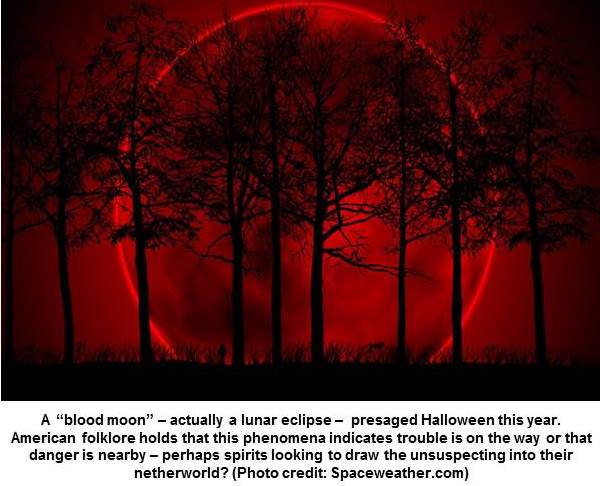 If you think John Belushi, River Phoenix and Sal Mineo are all there is to know about West Hollywood's dearly departed celebrities, you're dead wrong, so to speak. What you don't know could come back to haunt you. All Hallow's Eve draws near famous neighbors who left this life too soon may well decide that, yes, they can go home again.
So step right up – This virtual drive-by of places where stars suddenly took the West Hollywood exit from life's freeway is just the right ghoul gear to fend off spirits spooking around their once familiar streets and neighborhoods.
A word to the wise: There aren't any friendly ghosts. And do we really need to state up front there won't be any walks down the aisle or wedding day smiles on the tour? This is a meeting with the macabre, a dance with darkness.
HOUSE FIRES
Did you know several actors in some of your favorite programs met a particularly grizzly and gruesome end when they burned to death in their own homes? Let's count 'em down: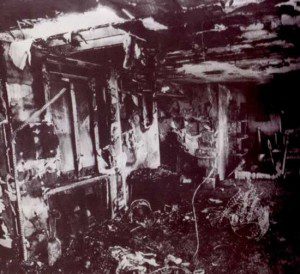 • JACK CASSIDY's penthouse apartment at 1221 N. Kings Rd. afforded him wonderful views of Los Angeles – until Dec. 12, 1976, that is. The former husband of SHIRLEY JONES, singer and actress of stage, film and television, was home alone and fell asleep smoking a cigarette, igniting the couch on which he was resting. The burning couch fueled a blaze that heavily damaged his residence. Cassidy's charred body, burned beyond recognition, was found in the doorway to his apartment. He was 49 years old. Cassidy was the father of DAVID CASSIDY, star of TV's "Partridge Family" (1970 – 1974) and pop singer SHAUN CASSIDY. He won the 1964 Tony Award for best featured actor for his role in the Broadway musical "She Loves Me" and was nominated for two Emmy Awards.
A series of back-to-back house fires in the West Hollywood area claimed several well-known actors in the early 2000s.
• DENNIS PATRICK, a veteran television actor best known for his role as banker Vaughn Leland in the long-running, prime-time soap opera "Dallas" (1978 – 1991), died Oct. 2002 in a fire at his Hollywood Hills home that once overlooked West Hollywood. He was 84. Patrick had some 1,800 roles altogether, including TV's first vampire in "Dark Shadows."
• GLORIA DICKSON, an actress whose career was beginning to take off in the early 1940s, was renting a house in the Mount Olympus neighborhood at Sunset Boulevard and North Crescent Heights Boulevard when it caught fire April 10, 1945. The blaze was caused by an unextinguished cigarette that ignited an overstuffed chair on the main floor while she slept upstairs. She died from asphyxiation. Her film debut in "They Won't Forget" (1937) landed her on the top of Hollywood's short list of important up and comers.
MURDERS (Solved)
The only uplifting aspect of the next group of stories is that the killers were caught … eventually … we think … well, maybe not. Read on.
• How in the world did 22-year-old ASHLEY ELLERIN, a cute and petite model with acting aspirations, attract the attention of a handsome fellow who would stab her 37 times? Police theorize her penchant for glomming onto celebrities and partying into the night with Hollywood types had something to do with it, along with her part-time job as a stripper. Enter ASHTON KUTCHER ("That 70s Show," MTV's "Punk'd," "Two and a Half Men," "Dude Where's My Car?", "What Happens in Vegas" and "Jobs"). Ellerin was dating the actor and waiting for him to pick her up on Feb. 21, 2001 when she was murdered at her Hollywood Hills apartment. She and Kutcher planned to attend a post-Grammy party that evening.
Serial killer MICHAEL GARGIULO finally was arrested in 2008 in the brutal deaths of Ellerin and two other women. Gargiulo is known variously as the Boy Next Door Killer, the Chiller Killer and the Hollywood Ripper. He's still being held at Los Angeles County Jail awaiting a capital murder trial in which he's defending himself. Police say he may have murdered as many as 10 women in a spree that began in 1993 in his hometown of Glenville, Ill.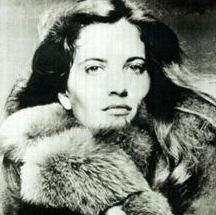 • VICKI MORGAN – Her name is synonymous with power, sex, money, sleaze, White House connections and sumptuous conspiracy theories. In other words, just another day in the USC Athletic Department. Most people recall how the 54-year-old billionaire ALFRED BLOOMINGDALE recruited the 18-year-old Morgan to be his mistress, his penchant for prostitutes and a major Marquis de Sade complex notwithstanding.
Although Morgan was bludgeoned to death in the San Fernando Valley, her affair with Diner's Club founder and department store heir Bloomingdale largely played out in and near West Hollywood. He kept a sexual play house filled with hookers in the 2300 block of Sunset Plaza Drive and gave it up eventually in favor of an apartment on La Cienega Boulevard where his sordid shenanigans continued. He even leased a house for Morgan at one point on Sierra Mar Drive replete with cook and housekeeper.
When Bloomingdale was diagnosed with terminal cancer, his wife Betsy cut off Morgan's allowance. Soon after, the affair made headlines as its sordid details were made public when Morgan filed a multi-million dollar palimony lawsuit against Bloomingdale's estate. All of this proved terribly embarrassing to Bloomingdale's pals President RONALD REAGAN and First Lady NANCY REAGAN, as well as the whole family values crowd – especially because Morgan claimed to have sex tapes implicating senior members of the Reagan Administration in orgies and other nefarious activities.
She eventually moved into a low-rent condominium in the San Fernando Valley where she rented a room to a schizophrenic named Marvin Pancoast, whom she knew from a withdrawal clinic. In 1983, Pancoast was charged with beating the 30-year-old Morgan to death with a baseball bat. He was found guilty in 1984 and sentenced to 26 years in prison. This is where the conspiracy theories come into play. Neighbors claim there were at least four other men in Morgan's apartment at the time she was killed.
Even though Pancoast confessed to the murder, he recanted within hours and there was never any physical evidence linking him to the bludgeoning. Was Morgan's murder simply a case of a cocaine-addicted, jealous creep going berserk? Or was there much more to the story given the political intrigue? Perspiring minds want to know.
• DOMINIQUE DUNNE, the 22 year-old actress and only daughter of prolific crime writer DOMINICK DUNNE, was strangled to death in the driveway of her home at 8723 Rangely Ave. on Nov. 4, 1982 by her estranged boyfriend, John Sweeney, who had stalked her for months. She was best known for portraying Dana Freeling, the oldest daughter in the horror film "Poltergeist" (1982). Her killer received a sentence of six years, which was automatically reduced to three. Sweeney – who has since changed his name – was released from prison after two-and-a half years.
Dominique's father contends the murderer's trial opened his eyes to the show-business aspect of the U.S. criminal justice system that gives more consideration to criminals than their victims – spurring him on to cover sensational crimes and murders in books and for leading magazines such as "Vanity Fair". He writes extensively about his daughter's murder in his book "Justice: Crimes, Trials and Punishments."
• SAL MINEO, most famous for his role opposite James Dean in "Rebel Without a Cause" (1955), was stabbed to death in a botched robbery Feb. 12, 1976 in an alley behind his apartment at 8569 Holloway Drive. He was 37. A year and a half later, a drifter serving time in a Michigan prison, LIONEL RAY WILLIAMS, allegedly bragged to fellow inmates that he had killed a star. Fellow convicts pimped on him, and Williams was finally convicted in 1979 of murdering Mineo. Although sentenced to 51 years, he served only 12 before being released in 1990. If you like murder mysteries, keep reading.
MYSTERIOUS / UNEXPLAINED
Now for a couple of tales that aren't sordid or gory – just a little eerie, even though the cause of death was well-established at the time.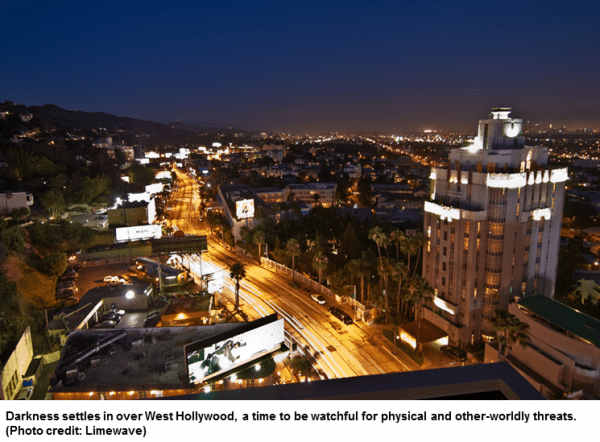 • BRITTANY MURPHY was accumulating a portfolio of critically acclaimed performances when she died of cardiac arrest Dec. 20, 2009 at her home on Rising Glen Road in the Hollywood Hills. She was only 32. She achieved breakthrough success in "Clueless" (1995) opposite ALICIA SILVERSTONE. Following Clueless, Murphy went on to star in "Eight Mile" (1992), "Girl, Interrupted" (2000) and "Just Married" (2003), and voiced the lead femme penguin in the animated hit "Happy Feet" (2012). In a bizarre twist, her husband, screenwriter SIMON MONJACK, was found dead in the same house just five months later. He died from pneumonia and anemia, just like Brittany, despite the fact that he was only 39 years old. They had been married since 2007.
MURDERS (Unsolved)
Sex is the common denominator running through the city's share of unsolved murders – along with a healthy dose of conspiracy theories.
• CHRISTA HELM's murder story bears striking resemblances to Sal Mineo's, leaving many to ask if the same person killed both. Helm was a 27-year-old struggling actress who had bit parts on "Wonder Woman" (1975 – 1979) and "Starsky and Hutch" (1975 – 1979). She was stabbed more than 20 times and left next to her car in a driveway on Lloyd Place. The crime on Feb. 12, 1977 remains unsolved. She had a string of high-profile lovers, including celebrities, politicians and even the Shah of Iran.
She apparently made secret sex tapes and kept a sex diary, intended for a tell-all book, in which she rated her lovers. Did she know too much? Was her killer the same man who murdered Sal Mineo? Consider this: Mineo was murdered a year before Helm on the same day, Feb. 12, and in the same way, a stabbing, and in the same neighborhood. Police said "The method of operation, the area of operation was so similar to Sal Mineo's killing. It's almost identical." Her murder remains unsolved, officially.
SUICIDES
The list of successful actors and comedians who have taken their own lives in and near West Hollywood, sadly, is a depressingly long one. Compared with the tear-jerkers that came before, though, these may seem almost like a relief.
• Comedian RICHARD JENI had HBO and Showtime specials among his credits, in addition to numerous appearances on "The Tonight Show with Jay Leno" (1992 – 2009). After a pleasant chat with his girlfriend on the morning of March 10, 2007 about their plans for the day, he shot himself in the head with a .38 revolver in the upstairs bedroom of their Hollywood Hills home while she made breakfast downstairs. They lived at 1922 N. Crescent Heights Blvd., just outside of West Hollywood. He was 49 years old.
• LENNY BRUCE's suicide by drug overdose bolstered the law enforcement career of a sheriff's deputy who arrested Bruce on obscenity charges five years earlier. The controversial stand-up comic killed himself at his home at 8825 W. Hollywood Blvd. on Aug, 3, 1966 with an overdose of drugs, as everybody knows. His story was told in the 1974 movie "Lenny" starring DUSTIN HOFFMAN. In 1961, Bruce was arrested on obscenity charges at The Troubadour in then-unincorporated West Hollywood. The arresting officer was a young deputy named SHERMAN BLOCK, who would later become Los Angeles County Sheriff. Bruce was 40 years old. 13
• STEVE LUBETKIN was a comedian who helped organize a strike against the Comedy Store in the 1970s to demand pay for shows they did for the HBO series "The Young Comedians." After the strike ended, he was one of several comedians banned from performing there. Depressed by the strike's apparent lack of success, Lubetkin jumped to his death from the neighboring Continental Hyatt House (now the Andaz) on June 1, 1979 and landed in the Comedy Store's driveway. When the dispute finally ended, comedians were paid for their shows, providing some return on Lubetkin's investment.
• DIANNE LINKLETTER, Art Linkletter's daughter, jumped to her death from the family's sixth floor apartment at 8787 Shoreham Dr. on Oct. 4, 1969. The family insisted she had been on drugs at the time (LSD), but an autopsy found no evidence of illegal substances in her system. She was 20 years old.
ACCIDENTAL DRUG OVERDOSES
What can we say about this next group? Other than we still miss them terribly?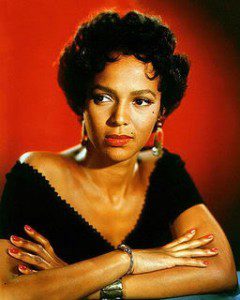 • DOROTHY DANDRIDGE, stage and film actress as well as singer and dancer, suffered a tragic death / suicide on Sept. 8, 1965 in her apartment at 8495 Fountain Ave. She is perhaps best known for being the first African-American actress to be nominated for an Academy Award – Best Actress — for her performance in the 1954 film "Carmen Jones." A Los Angeles pathology institute determined the cause to be an accidental overdose of Imipramine, a tricyclic antidepressant. She was 42.
• JANIS JOPLIN died of an accidental drug overdose Oct. 4, 1970 at the former Landmark Motor Hotel at 7047 Franklin Ave. (now called the Highland Gardens Hotel). Barney's Beanery in West Hollywood was the setting of her last meal. Joplin, tragically, was only 27 years old when she died.
• JOHN BELUSHI overdosed on cocaine and heroin at the Chateau Marmont on March 5, 1982 at the young age of 33. The comedian and actor perhaps was best known as one of the original cast members of "Saturday Night Live."
• RIVER PHOENIX – Everyone is familiar with the storyline here. He collapsed and died from of a drug overdose outside the Viper Room on Sunset Blvd. on Oct. 31, 1993. His movie credits included "Stand by Me" (1986) and "Indiana Jones and the Last Crusade" (1989). A biography of his life is titled "Last Night at the Viper Room." He was working on the movie "Dark Blood" at the time of his death, which was finally released 10 years later. Phoenix was 23 years old.
MOB HITS
When all else fails, organized crime can still be counted on to put the gore in gory.
• Attempt on MICKEY COHEN's Life – Sherry's Restaurant at 9039 W. Sunset Blvd. was the setting of a pre-dawn gangland shooting July 20, 1949, that wounded organized crime boss Mickey Cohen and killed one of his bodyguards. A second bodyguard injured happened to be one assigned by the California Attorney General's office to protect Cohen. Dee David, a young Hollywood movie starlet who was Cohen's dinner guest earlier that evening, also was hit but lived. Gun shots also injured journalist Florabelle Muir, who covered Hollywood celebrities and underworld gangsters for the Los Angeles Times-Mirror as well as for the Saturday Evening Post. Muir was struck in the backside when a slug ricocheted and left a large bruise as she apparently was gathering "facts" for her next story. Her first instinct was to get a newspaper photographer to the scene while her husband screamed for her to get down. Muir was a confidant of Cohen's and enlisted her husband to improve Cohen's reading and vocabulary skills. In 1950, she released her memoirs, "Headline Happy."
SERIAL KILLERS
Evil slithers into our midst, imperceptibly at first. By the time it reveals itself, it's already too late for its innocent victims. These are some of the mass murders and their victims with West Hollywood connections.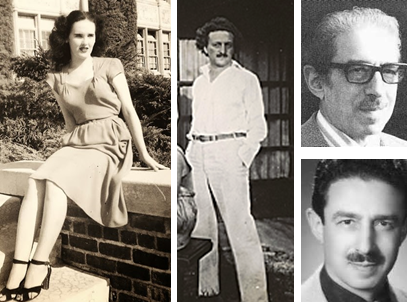 • Was architect RUDOLPH SCHINDLER the BLACK DAHLIA killer? Sounds preposterous, but there's weird, and then there's weird. Both fall short of describing a strange turn in West Hollywood's connection to the unsolved 1946 dismemberment murder of Elizabeth Short, aka the Black Dahlia. Her last known address was on Sunset Boulevard in West Hollywood.
Seemingly out of nowhere, in 2013 a lay detective known only as "Crow" launched a website that makes a fairly reasonable case – in an odd kind of way – for modernist architect Rudolph Schindler as being depraved enough to carve up someone the way Short was butchered. Schindler, of course, designed the now iconic house on North Kings Road that was a model for an entirely new style of architecture particularly suited for Southern California. He died in 1955.
Shortly after Crow's website went live, the organization that manages the Schindler House, the MAK Center for Art and Architecture, picked up the ball and published a book using the online content – and even enhanced it with the help of a graphic artist and copies of Schindler's own drawings. The MAK Center – the holder and protector of Schindler's legacy – did it in the name of art. The book was used to promote a show featuring works by writers and artists it commissioned who were especially adept at connecting the dots between different Los Angeles "stories and centers" – the point being that Schindler was a pure artist first and foremost and a businessman second. Follow that? If not, a complete, lengthy account was reported by the "L.A. Weekly" in what must have been a journalistic first: an art show review with a murder mystery backstory.
• Hillside Stranglers KENNETH BIANCHI and his cousin ANGELO BUONO picked up 15-year-old prostitute / runaway JUDITH LYNN MILLER in the Railway Diner inside the Sunset Crest Retirement Home at 8300 Sunset Blvd. Oct. 30, 1977 (now a motel) and killed her later.
• KIMBERLY MARTIN, also a victim of the Hillside Stranglers, lived at 733 West Knoll in the heart of the city's west side. Her body was dumped on a hillside along Interstate 5 in the Elysian Park area in the 1970s. In yet another weird twist, counter-culture icon TIMOTHY LEARY lived in the same house in 1978-1979. The home has been completely renovated and now operates as a suite hotel.
• JUDY DULL, who lived at 1302 N. Sweetzer Ave., was a victim of serial killer HARVEY GLATMAN. Known as the Lonely Hearts killer, he trolled around modeling agencies looking for potential victims. He would contact them with offers of work for pulp fiction magazines, take them back to his apartment, tie them up and sexually assault them, taking pictures all the while. He would then strangle them and dump the bodies in the desert. Glatman was arrested in 1958, caught in the act of kidnapping what would have been his fourth known murder victim. He was executed in the gas chamber of San Quentin State Prison on Sept. 18, 1959.
SELECTED HAUNTED PLACES
Let's take a moment to catch our breath and be glad we're safe. Oh, wait – that's for another lifetime. Warning: Real ghosts dead ahead.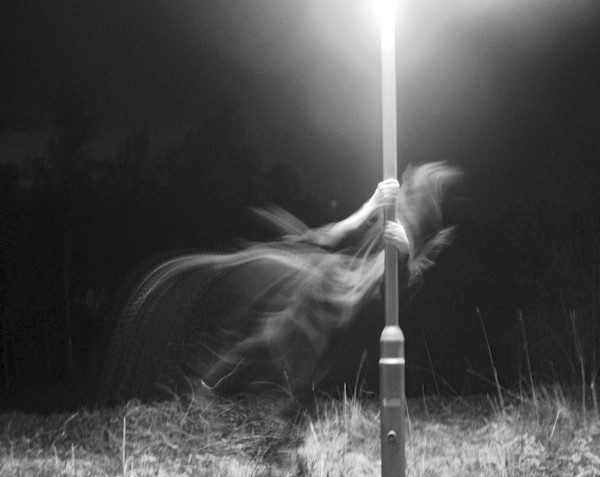 • Barney's Beanery, 8447 Santa Monica Blvd., West Hollywood
An "L.A. Times" headline from 2011 says it best: "Workers at Barney's Beanery in West Hollywood see — and sometimes feel — the evidence of mysterious beings." While revelers at West Hollywood's Halloween Carnaval may well conclude festivities outside the bar and restaurant's front door, employees say the real ghosts and goblins will be on the inside.
• Silent Movie Theatre, 616 N. Fairfax Ave, Los Angeles
The original owner developed cancer as a result of working with toxic chemicals in an effort to preserve film. The next owner was shot and killed inside of the theater. Local lore says that both of them are seen in different spots of the theater long after closing hours.
• The Comedy Store, 8431 Sunset Blvd. West Hollywood
Witnesses have reported that, appropriately enough, a prankster ghost haunts this building. Employees have stacked roomfuls of chairs away only to find that, seconds later, they were all set up again. A dark entity also is said to reside in the basement. A pair of comedians who performed there reportedly witnessed the haunting.
IT'S A WRAP
This WeHo dearly departed tour ends with the trademark advice that Sergeant Phil Esterhaus, played by actor MICHAEL CONRAD in the TV police drama "Hill Street Blues" (1981 – 1987) gave at roll call every week: "Hey, let's be careful out there."
Conrad knew what he was talking about. He died a "normal" death in 1983 from urethral cancer.
Bob Bishop is a retired public relations manager and journalist who writes about local history for WEHOville. Contact him at bishopbob6@gmail.com.