New Frontiers Media LLC, the financially struggling owner of Southern California's oldest gay magazine, has been sold.
Multimedia Platforms Inc. (MPI) of Fort Lauderdale, the new owner, announced the purchase today. MPI describes itself as the "only publicly traded LGBT media company." It is traded on the over the counter market as EAHC.
MPI owns Florida Agenda, a Fort Lauderdale print weekly; Fun Maps, a series of maps of gay communities calling out bars and shops; Next magazine, a New York City gay nightlife guide, and Guy Magazine, a Fort Lauderdale website for gay men
In a news release, MPI said it intends to expand Frontiers to cover New York City with the hope that it will become a national LGBT publication. That approach would put it in competition with publications such as Out magazine and the Advocate magazine and Metrosource magazine. MPI said it will expand Next to cover California, where a leading competitor already exists in the form of G.E.D., or Gay Entertainment Directory.
Bobby Blair, MPI's owner and CEO, will retain that position while the company creates separate divisions focused on print media and digital media. Blair is a former professional tennis player and real estate spokesperson. Peter Jackson, who is MPI's president and group executive publisher, will remain in charge of the company's print media. Michael Turner, owner of Frontiers, will join MPI as president of digital media and will remain publisher of Frontiers. Frontiers executive Tristan Schukraft, a West Hollywood resident, will oversee Next magazine's California edition.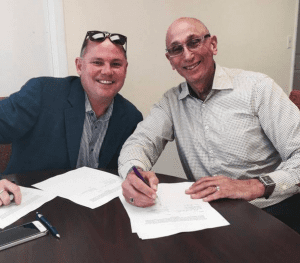 The acquisition is the latest step in a rocky road to recovery by Frontiers, which was launched 33 years ago and filed for bankruptcy protection in March 2013. In December 2013 Michael Turner, whose profession is assessing the value of properties, acquired Frontiers out of bankruptcy for $361,000. When it filed for bankruptcy protection, Frontiers Media had $3.2 million in debt and $58,000 in cash on hand. Wells Fargo, which Frontiers owed $1.3 million, received $140,000. Frontiers Publishing, from which Frontiers publisher David Stern and his late business partner, Mark Hundahl, acquired the magazine in 2007, received a $95,000 payment on its debt of $900,000. Many of Frontiers smaller creditors, including printers and miscellaneous vendors, went unpaid.
Under Turner, Frontiers magazine has charted an erratic course. Soon after acquiring the company, he brought on as editorial advisor Owen Phillips, a heterosexual man, who helped Turner realize what he told WEHOville was his goal of expanding the magazine's appeal to a heterosexual audience as well as a gay audience. Indeed the magazine now carries reviews of movies, music, restaurants and nightlife with no obvious gay connection. That strategy is unusual in an era where successful magazines are tightly focused on well-defined audiences, moving away from the general audience focus of Look and Life of the 1950s and 1960s.
Turner also has expanded Frontiers' distribution, which is rumored to be 30,000 to 36,000 copies every other week (unlike many publications, its circulation is not independently audited). The magazine now is distributed in San Francisco, Fresno, Sacramento, San Jose and Las Vegas. That also is an unusual strategy given the most of Frontiers' advertisers are L.A. area businesses whose customers are local.
Since Turner's purchase, the magazine's advertising pages have plummeted. Where once Frontiers published a 68-page or 72-page issue only during the dead holiday season or August, now Frontiers rarely contains enough advertising to support a magazine with more pages than that. Frontiers also lags in website traffic, with data from Amazon's Alexa.com showing it is the lowest ranking gay website among eight national sites, including Queerty.com, which leads the others, and Out.com and Advocate.com. FrontiersLA.com, the website, also ranks far below WEHOville.com, which covers local gay issues given that 40 percent of West Hollywood's population consists of gay men.
A recent gamble by Turner was to replace ads soliciting sex from prostitutes and masseurs, which made up a large portion of its ad base. Such ads make it difficult if not impossible for the magazine to attract high quality advertisers. Frontiers now is for sale at places such as Pavilions, the grocery store, although free copies of the magazine are available at racks outside.
WEHOville was unable to reach Blair or Turner for comment on the acquisition.