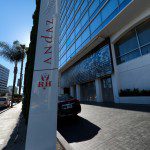 A guest at the Andaz hotel on Sunset Boulevard was accidentally shot by a friend in his hotel room last night.
Sheriff's Deputy Trina Schrader said the guest was a jeweler who legally possessed a handgun. While he was showing his friends his collection of jewelry, one of them, Daniel Dixon, 30, accidentally pulled the trigger on the gun.
Dixon was arrested on suspicion of discharging a handgun in a negligent manner, with his bail set at $35,000.
The man who was shot, who has not been identified, was transported to Cedars-Sinai Medical Center, where he is in stable condition.