Eddie Klein recalls that his gay friends groaned when "Looking," the HBO series about three men making their way through the modern gay world, first aired.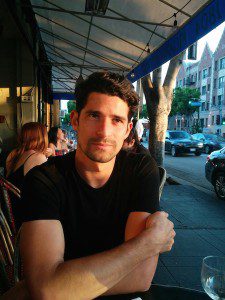 "This is not real life," Klein, who is straight, remembers them saying. "I said: 'Shouldn't we just do Sex and the City?' They all went: 'Yeah!'"
The result is  "Gay Guys Do Sex and the City," aYouTube video produced by Klein and Henry McMillan that explores that other sex in that other city (that would be L.A.).
Klein did the physical production, with many of the scenes shot in Pingtung, the Chinese restaurant on Melrose. McMillan, who owns Hollywood Power Yoga, assembled the cast. In addition to McMillan, it includes Jimmy Fowlie, an alumnus of The Groundlings, who is known for "Go Go Boy Interrupted," a gay-themed comedy web series based on his live sketch comedy show of the same name. There's also Dakota Greene, an actor and comedian whose resume also calls out his skills at dance and rock climbing. And there's Dillon Field, whose resume includes "Business or Pleasure" (2013), "I Am Not a Princess" (2010) and "Sleepover with Dan & Lauren" (2014)
Klein's Pizza Party!!! channel on YouTube includes "Breaking Up Is Hard to Do", an unlikely comedy about a relationship with someone who has genital herpes, "Instability," a hilarious parody of the selfie craze, and "Subtext," a comedy about texting miscommunication
Klein said the video was an "exercise in fun," something that they all saw as sort of a joke. But at the same time, it's clear there could be a series in it. "The tone of the video is parody," Klein said. "We put a little L.A., a little WeHo in it."