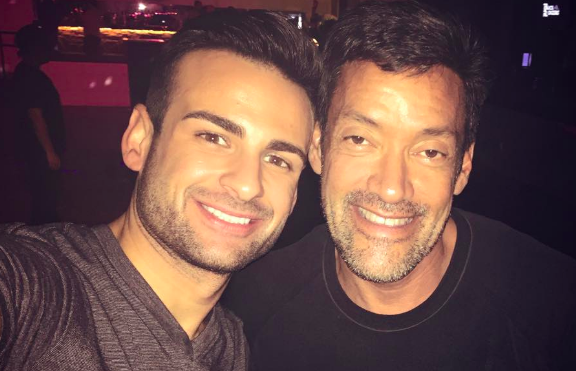 Ian Owens, the deputy to West Hollywood City Councilmember John Duran, has filed suit against Duran and the City of West Hollywood alleging he was wrongfully suspended on false allegations of spying on a colleague when he was actually trying to report unlawful activity.
In the suit, Owens claims he was the victim of retaliation for reporting alleged misconduct and that Duran sexually harassed him instead of helping him. He's seeking unspecified damages in the lawsuit filed Wednesday in Los Angeles Superior Court.
City Attorney Michael Jenkins did not immediately respond to a request for comment.
Owens was placed on administrative leave in January after the city launched an investigation into allegations that he had bugged the office of Fran Solomon, an aide to Councilmember John Heilman, and emailed a chronicle of her private conversations under a fake name to local journalists and residents. Later Owens was allowed to return to work while an investigation into the allegations continued.
The suit states that Owens did nothing wrong and heard Solomon's conversations "through the walls" since Solomon's office was next to his. "Importantly, at no time did Mr. Owens ever record any conversations of anyone at City Hall or otherwise break any laws," the suit says.
The conversations Owens overheard led him to believe Solomon was involved in "illegal electioneering and fundraising," according to the complaint.  In the politically and personally charged deputy offices on the third floor of City Hall, Owens is known to be a close friend of Michelle Rex, the deputy to Councilmember John D'Amico. D'Amico frequently and publicly expresses his dislike for Heilman and worked for his defeat in the March 3 City Council election.
Owens began working as Duran's deputy in August 2012. His suit alleges Duran "made sexual advances and/or sexually suggestive comments to Mr. Owens well over 100 times" and that Duran failed to protect him against the city's alleged retaliation for his email about Solomon. Details of Owens' allegations are reported here. Duran has admitted to WEHOville that he first met Owens through Grindr, a gay hookup app, and had sex with him. However Duran said that he didn't have sex with Owens, or solicit sex from him, after hiring him.
In a statement today, Duran said: "Mr. Owens never accused me of sexual harassment until he was caught and walked out of City Hall for his wrongdoing. The city has hired an independent investigator and I know my name will be cleared. This sexual harassment claim against me is meant to deflect attention away from his own misconduct at City Hall."
The city also issued a statement:  "The City of West Hollywood is aware that a complaint has been filed by Council Deputy Ian Owens in Superior Court naming the City of West Hollywood and Councilmember John J. Duran as defendants," it read. "The City's outside investigation of the events giving rise to this complaint has not yet been completed.  The City's legal team has not yet had an opportunity to review the complaint and has no comment on it at this time, other than to note that the City prides itself on providing a workplace free from harassment and discrimination."
Each of the five Council members has a full-time deputy, chosen by the Council member. WEHOville's revelation in January that Owens was the source of the allegations about Solomon has sparked a heated debate about what some call "Deputygate." Among the criticisms of the system are that some of the deputies, who make as much as $190,000 a year including benefits, don't come to work until 11 a.m., take long lunches, don't respond to residents' telephone calls, engage in illegal campaign activities for their bosses, spy on one another's telephone calls, snipe at one another and interfere with the work of other city employees to promote the political interests of the Council member to whom them report.
The deputies have their own five-member union, which took a stand in opposition to an ethics reform proposal by former Councilmember John Heilman that would have barred the city from rehiring former deputies for city jobs. Two of the Council members, John D'Amico and Lauren Meister, have hired their political campaign managers for the position, injecting a political aspect into what is technically a civil service position. The Council in April postponed a decision on reforming the system until after the June 2 election.  However Mayor Lindsey Horvath successfully introduced a measure that establishes a formal process for evaluating candidates for the deputy position rather than leaving the decision solely to the Council members.