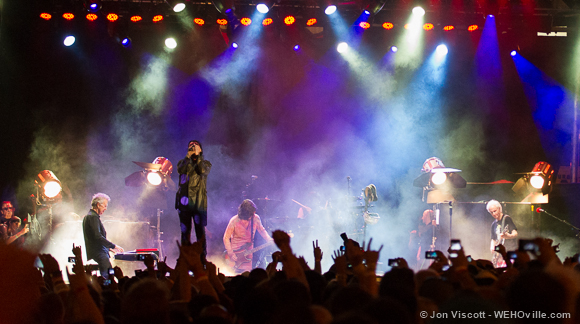 The financially troubled Sunset Strip Business Association (SSBA) is asking the City of West Hollywood to fund 22 percent of its proposed operating budget for the 2015-2016 fiscal year.
The request for a $140,000 contribution to the SSBA's $492,000 budget is included in a report that will be presented to the City Council at its meeting on Monday. The city money would be used to support security patrols and street cleaning and launch the annual Sunset Strip Market this summer.
The SSBA is organized as a business improvement district and is supposed to be self-funding through fees collected from businesses within its boundaries and events it puts on. Its purpose is to provide marketing, safety and cleaning services to the Strip, a major tourist destination. As of February, the SSBA was $1.3 million in debt and is having difficulty collecting fees from some of the businesses that are its members.
A major reason for the SSBA's debt is the annual Sunset Strip Music Festival, which began in 2008 as a celebration of Sunset Boulevard's role in rock music history and which the SSBA operates. The festival last year lost $1 million, about three times the losses of the year before. The 2013 losses had led the Council to briefly consider putting the Festival on hiatus. In an attempt to improve the festival's operation, the SSBA hired the Nederlander Organization to manage and market last year's event. Despite that, the festival drew criticism from local residents because of the noise it created and also got negative reactions from music critics for the quality of its entertainment lineup.
The SSBA also contracted last year with Calamigos Ranch to operate the Farmers Market. The market's focus has shifted from vending locally grown food to a range of events including beer fests and a "drag queen bingo" night https://www.wehoville.com/2014/06/23/sunset-strip-market-adds-drag-queen-bingo-repertoire/
The Council will be asked on Monday to approve the annual fee assessment on the SSBA's businesses. The city collects the assessments from the businesses and passes the money along to the SSBA. The Council meeting will take place at 6:30 p.m. Monday at the City Council Chambers at 625 N. San Vicente Blvd. south of Santa Monica. A public hearing will take place on June 1 at 6:30 p.m. at the City Council Chambers at which residents and business owners can raise questions about the reauthorization of the business improvement district.