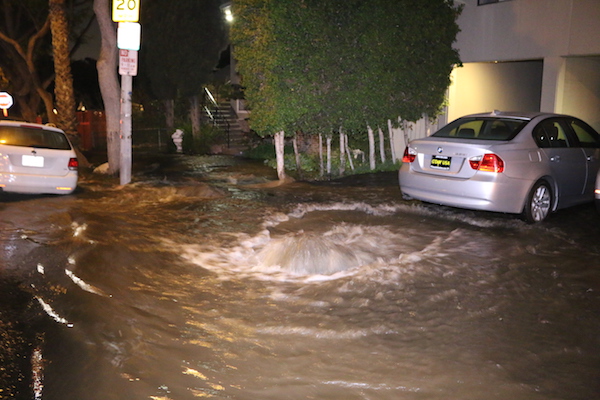 UPDATE: Water service was restored about 6:45 p.m. Sunday, and a "slurry" compound was used to fill in the excavation, the LADWP reported. However, the compound must cure before the roadway surface can be repaired, and the street could remain closed until Tuesday night or Wednesday morning.
As many as 27 apartments and homes in West Hollywood are without water service today due to a 12-inch cast iron water main break on Formosa Avenue that caused damage to the street as well as some personal property.
The break in the 1200 block of North Formosa Avenue occurred about 4:45 a.m., said Terry Schneider of the L.A. Department of Water and Power.
There was some street damage at the location as well as some personal property damage due to flooding, according to Schneider. The water main break caused flooding in the parking garage of at least one apartment building.
Schneider said a cause of the break was not immediately known and that crews will be "working throughout the day" making repairs to the water main.