Defending champions the L.A. Sisters of Perpetual Indulgence are headed back to the softball field to defend their title against the West Hollywood Cheerleaders in the Drag Queen World Series today.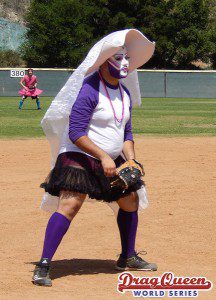 Life Group L.A.'s fourth annual "Drag Queen World Series" will be held from 1 to 4 p.m. at Glendale Sports Complex, 2200 Fern Lane, Glendale. Tickets are $15 at the door.
All money raised at the event will go to the Life Group LA, a coalition of people dedicated to the education, empowerment and emotional support of persons infected by and affected by HIV/AIDS so that they may make informed choices and decisions regarding their healthcare and personal well being.
This years commentary will be by Chico's Angels' Frieda Laye, part of a trio of comedic Latina drag queens including Kay Sedia and Chita Parol, who make up Chico's Angels. They perform in a Latino drag queen/Three Stooges version of the 70s series, Charlie's Angels. The co-host is JEWZA, a combination with of both Judy Garland and Liza Minnelli, portrayed by actor Matt Valle.
Also performing will be DJ eur-O-Steve and the Red Car Trolley musical group. This year's food truck is Babys Badass Burgers. There will be raffle prizes including a weekend for up to 16 people at the Harpo Marx estate in Rancho Mirage
The Sisters of Perpetual Indulgence says its mission is "to make people happy, stamp out guilt brought on by a judgmental society and help various organizations and charities… (It) strives to strengthen its community through drag activism, by raising much-needed funds for community charities, and by bringing about a better understanding of gay spirituality."
The West Hollywood Cheerleaders, founded in 1986, is dedicated to addressing social stereotypes and ending the stigma surrounding HIV and AIDS. Every dollar donated to its Cheer for Life fund is used to educate, empower and amplify HIV/AIDS awareness in the LGBT community.